Did you ever have a "missing sock" problem?
Finding a pair of matching socks can be a common frustration. I don't know if socks get separated in the laundry or what happens to them, but most people I know have had some "missing sock" experiences.
Well, if you shop for socks on DealDash.com, you might never have to look for a matching sock again – not if you win 96 pair of socks in one auction. No joke!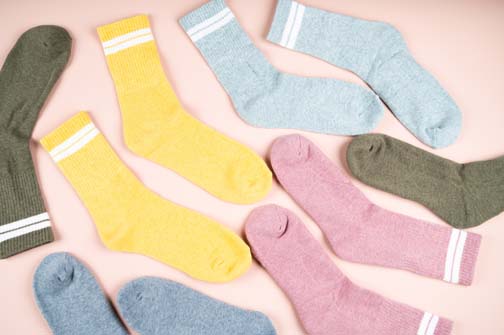 As of this writing, DealDash has one active auction in which the winner will actually receive a whopping 96 pair of men's basketball socks. Now what could we do with that many pair of socks? We could give them to an entire basketball team, or donate them to homeless people to help keep their feet warm this winter, or we could keep them ourselves and never run out of socks again. This package of 96 pair of socks BIN for $624.00.
Upcoming sock auctions
If we do not want to shop for men's socks DealDash has many more sock auctions coming up for women and children, too. Upcoming sock auctions will include:
60 pair of black, gray and pink double-layer cozy crew socks for women with a BIN of $360.00
120 pair of cushioned crew socks for women with a BIN of $899.00
72 pair of red, green and blue ankle socks for boys with a BIN of $240.00
180 pair of crew socks in various designs and colors for youth (boys or girls) with a BIN of $539.00
120 pair of memory foam liner socks in size S/M with a BIN of $240.00
48 pair of knee socks for women with a BIN of $311.00
Just think how many Christmas gifts we could take care of if we win just one of these sock auctions.
Honestly, I learned the hard way that new socks might be one of the last things some children want to see under their Christmas tree. When my sons were young they entered a Santa letter-writing contest. They were to write a "thank you" letter to Santa for what they received the previous Christmas. The prize was a free season pass to a local water park. My son Ryan wrote, "Dear Santa, Thank you for the stupid socks you gave me last year. Please do not make the same mistake again this year." To our surprise, he won!
As adults, however, I think we can truly appreciate some nice warm socks. In fact, the more socks I get the better and merrier I'll be.
The bottom line
If all of these sock auctions on DealDash do not put shoppers in sock heaven, nothing will!  Happy shopping and I will see you in the sock auctions!

This sponsored blog post was submitted by: Barbara L. Sellers. Barbara was compensated by DealDash for this blog post. Blog posts are written by real DealDash customers. The opinions and advice here represent our customers' views and not those of the company.