Did you see all the new showerheads going up for auction on DealDash.com?
Now DealDash has a variety of new showerheads that frequently go up for auction and some of the closing prices show that customers have been able to win some awesome bargains on the sales price, too. For example, one showerhead that has a BIN of $252.00 sold several times for less than $5.00. However, according to my research, winning a great bargain is not the only reason we should shop for a new showerhead.
Most people might not know it, but showerheads should be replaced every 6 to 8 months or about twice a year, especially if we live in a hard-water area. This is because they often get overly covered with sediment. One sign we might need to replace our showerhead is when we notice a change in water pressure or the water starts shooting out in all directions. That could mean the holes in our showerhead are clogged with minerals. Although we could clean an old showerhead by detaching it and soaking it in vinegar, it might be better to simply replace it with a new one.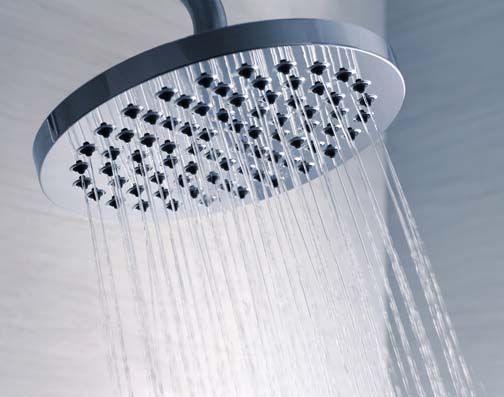 Some additional reasons to shop for replacement showerheads are:
Showerheads can have a build-up of black mold and become a breeding ground for bacteria that can cause respiratory illnesses.
Upgrading our showerhead could save us money on our energy and water bills.
A laboratory-tested showerhead could relieve our body from stresses so getting a new shower head could relieve backaches, headaches or taut shoulders.
Some modern showerheads have technological features that enable them to maximize water pressure and minimize the amount of water use.
It could save us the embarrassment of having guests over and see our shower look outdated.
We might want to change our fixed showerheads with a more flexible handheld one, and we may even need shower seats to go with it.
Replacing Old Showerheads
We might be able to replace old showerheads ourselves with a little help. If we go online we can find a YouTube video on "How to Change a Shower Arm and Showerhead." Otherwise, we could hire a handyman or professional plumber to do the job for us.
Some of the showerheads being auctioned off on DealDash might require a new shower arm that is not included. Before shopping for a new showerhead, it could be a good idea to contact a DealDash customer service representative who will be able to answer the questions we may have about the product and what it does or does not include. If the showerhead does not come with a shower arm that goes with it, we might have to go out to buy one before we can install the showerhead we win on DealDash.
According to my online research, "almost any shower head manufactured in the United States will fit on the shower arm installed in your bathroom" but we might need to purchase a new shower arm that extends out from the bathroom wall more than the old one did. We might also want to buy some plumber's tape from our local hardware store. It's usually not necessary to turn off the water to the house when we replace our old showerhead, but we should definitely keep the shower faucet off while we do this.
A quick and easy way to see all of the showerheads coming up for auction on DealDash is to do a search. Then you can choose one you like best and click on the "Alert Me" button so you don't miss it the next time it goes up for auction.
I hope you win a new showerhead on DealDash that gives you a new lease on life like a warm gentle rain.
This sponsored blog post was submitted by: Barbara L. Sellers. Barbara was compensated by DealDash for this blog post. Blog posts are written by real DealDash customers. The opinions and advice here represent our customers' views and not those of the company.