Did you see the combo boxing bag; gloves and hand wraps go up for auction on DealDash.com? If you missed it, don't worry. It will be back up for auction again, soon.
Yeah, I know, you might be thinking what I used to say when I was young, "Boxing is only for guys and it doesn't make any sense for two grown men to beat the living daylights out of each other for a living!"
Well, I have since learned boxing is not just for men and you don't have to beat another person half to death to enjoy the sport. That's right. When we have our own boxing bag to punch and kick we can relieve stress and get a really good workout without hurting anyone. I saw several women working out in the gym who punch and kick those heavy boxing bags.
The 100-pound bag kit includes boxing gloves and 108-inch hand wraps. It also comes with heavy-duty nylon straps. According to the DealDash description, they "provide security and safety when the bag is in use" and "the premium synthetic leather" on the bag "provides a vintage look." The specially blended filler mix of sanitized synthetic and natural fibers "provide resilient shock absorbency for the utmost in safety while training."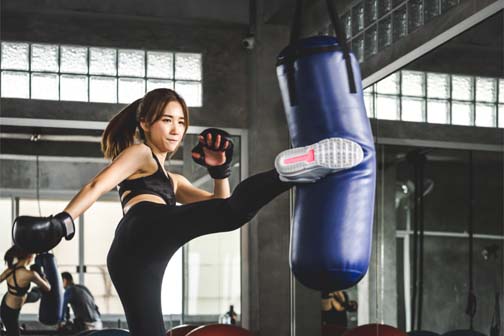 I was surprised to see the entire package deal of the bag, gloves and hand wraps have an affordable BIN of only $114.00. Therefore, even if we do not win this auction we might want to take advantage of the BIN. The awesome thing about doing that is getting all of our bids back free so we can use them in another auction, and we still end up with an awesome Christmas gift at a bargain price.
Health Benefits of Boxing
According to my research, boxing is a great way to get into top notch physical condition but many experts say it might be wise for beginners to sign up for classes first. That's a good way to learn the right way to go about getting the most out of it without injury.
Besides enhancing our mood and increasing our alertness, other health benefits we can get from boxing is improved balance, better posture, better endurance and improved hand-eye coordination. Boxing will also burn fat while we strengthen our upper-body and core. It is highly recommended that to get the best results we do a 30-minute workout about three times a week.
In other words, boxing can give us a total body workout because it directly stimulates all of our muscles and will most likely result in a leaner and fitter physique. When compared to weight lifting, boxing wins. According to a health website NutriStrategy, a 155-pound person will burn between 200 and 500 calories per hour of weight lifting, depending mostly on how vigorous the weight-lifter works out. By this standard, boxing training is better from a fat loss standpoint and we can expect to see results in as little as 4 weeks. In fact, many experts say boxing is an excellent way to lose belly fat because it is "very good at burning visceral fat, or the fat commonly found around the waist."
You might want to shop for this boxing package for yourself, your spouse or even your child. A good age to start is from age 10 to 12. The great boxing champion Muhammad Ali, who set a record of winning 32 boxing matches before losing his first fight in 1971, started boxing at age 12 so that's not too young to start. Regardless if you win or BIN, this boxing combo is sure to be a bargain.

This sponsored blog post was submitted by: Barbara L. Sellers. Barbara was compensated by DealDash for this blog post. Blog posts are written by real DealDash customers. The opinions and advice here represent our customers' views and not those of the company.