Did you see the smoker that went up for auction on DealDash.com? If you missed bidding on that 22-inch Cooker Smoker that last sold Sept. 14, no problem.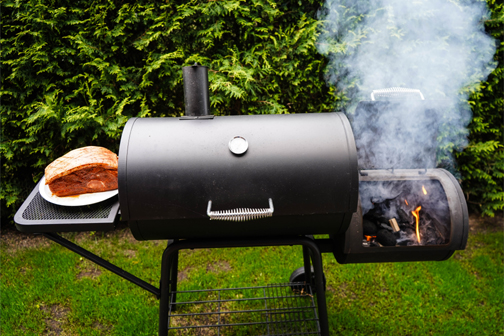 If that awesome looking Cooker Smoker does not come up for auction again, at least some other smokers will – one is an Offset Charcoal Smoker and the other is a Digital Electric Smoker. You can conduct a search and then press the yellow "Alert Me" button to make sure you do not miss those two auctions.
One of the best memories I had from my childhood was getting smoked fish from my grandpa because it tasted so good. My mother's father was a commercial fisherman and mink rancher in the Lake-of-the-Woods area of Northern Minnesota, near the Canadian border. Every once in a while he would travel about 300 south to our family farm and give us one of the best treats we ever ate – smoked fish.
To this day, I still love the taste of smoked fish and smoked turkey. There's nothing like it. There is just something special about smoked fish that makes it taste better. Some people dislike the "fishy smell" but when fish is smoked it helps to eliminate the "fishy smell" and it gives it a "smoky smell" instead.
Why Smoked Meat
According to information I found from my research, it is believed that smoked meat can be traced all the way back to primitive cavemen. Later on, the process of smoking was combined with pre-curing the meat with a salty brine or salt. That process helped to preserve the meat even more and is a process that is still used today.
Historians believe that modern day smoked meat originated in Turkey and was brought to Romania by invading Turkish armies. Romanian Jewish butchers improved the curing process resulting in an exquisitely tender delicacy.
Properly cleaning a meat smoker is crucial for fire prevention and to maintain proper health standards. However, smoked meat is high in protein, and eating a high protein food is good for health. Smoking also ensures that the extra fats are eliminated in the process of smoking. That means the smoked meat, like chicken, is high in protein and low in fat.
Another advantage of smoking is that it kills certain bacteria and slows down the growth of others. It prevents mold from forming on fermented sausages and it extends shelf life of the product. The smell and flavor of smoked meat is appetizing, too.
The best smokers help us to cook food slow and low (180 degrees F to 220 degrees F) in a smoky chamber to infuse foods with flavor. Unlike the typical grilled recipe which cooks at 400 degrees F to 550 degrees F, smoked recipes involve cooking at a low heat created by the smoke itself as the wood chips or chunks smolder rather than burn.
Charcoal Smokers and Electric Smokers were listed as some of the best Smokers to buy for beginners in 2021 based on value and how easy they are to learn to use. Both of them will be coming up for auction on DealDash in the near future.
Hopefully, you will be able to win a smoker on DealDash.com and enjoy the special flavor of smoked meat.

This sponsored blog post was submitted by: Barbara L. Sellers. Barbara was compensated by DealDash for this blog post. Blog posts are written by real DealDash customers. The opinions and advice here represent our customers' views and not those of the company.