DealDash.com offers a wide variety of durable backpacks. You name it. They have it.
DealDash even has a two-person emergency "grab and go" backpack kit that is already filled with emergency items. That one will be coming up for auction pretty soon, and I will be watching for it because it's a good idea to always be prepared for emergency situations.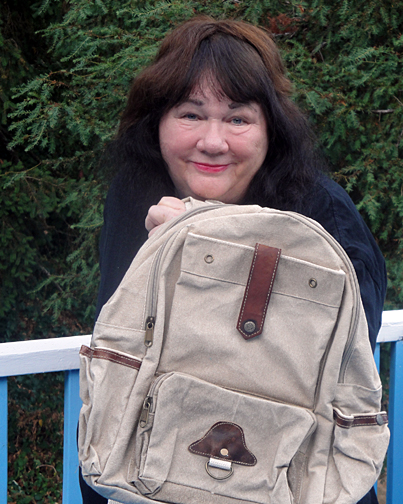 Whether we are looking for a stylish backpack for school books, a tactical backpack, waterproof backpack, rugged backpack to go camping or trail blazing DealDash is the place to find the kind of backpack we need.
I already won several backpacks from DealDash and I can tell you from first-hand experience that all of the backpacks I got from DealDash have one thing in common — they are definitely made for endurance.
Backpacks are typically made from canvas, cotton or nylon because these materials are the most durable and can withstand a lot of wear and tear over time.
Some of the backpacks are even hand made. In spite of some rough handling, all of the backpacks I won from DealDash are still in excellent condition. Unlike other backpacks I have had in the past, these backpacks will not fall apart very easily and are sure to last for many more years to come.
Backpack History
The word backpack was coined in the United States in the 1910s. Moneybag and packsack were used prior. The word rucksack is a German loanword mainly used in the UK, US and in other Western military forces.
According to my research information Lloyd Nelson, known as the father of outdoor sports, was hiking around Alaska with a bag made from sticks and seal skin. Two years later, in 1922, he received a patent for a backpack with a wooden frame called the Trapper Nelson, which was mass produced and sold all over the country.
It wasn't until 1969 that students started buying the "meant-for-hiking" backpacks from an outdoors shop on the University of Washington campus to carry their books and keep them dry from the frequent Seattle rains.
The owner and creator of Gerry Outdoors in Boulder, Colorado, Gerry Cunningham, is credited with first using zippers and nylon for daypacks that later led to the modern school backpacks.
Backpacks are a better option than shoulder or messenger bags for carrying books and supplies. That's because the weight of the pack is evenly spread out across our body and the strongest muscles in our back and abdomen support the pack.
A US soldier's typical backpack will carry essential items like a sleeping bag, sunscreen, fire kits, medicine, first aid kit, compass, flashlight, night vision gear and a signal mirror.
Bottom Line
Every family will be sure to need a good backpack sooner or later. This is now fair season and whenever we go for an all-day outing to a fair or theme park we can always use a good backpack. It is the perfect way to carry extra bottles of water, snacks or sweaters.
Because of special safety concerns and COVID-19 mandates, we might not be allowed to use backpacks in some places. Nonetheless, that might only be temporary. In the meantime, at least we can still use them on hiking trails to get some exercise and explore the great outdoors.

This sponsored blog post was submitted by: Barbara L. Sellers. Barbara was compensated by DealDash for this blog post. Blog posts are written by real DealDash customers. The opinions and advice here represent our customers' views and not those of the company.