Wow! Who would ever have thought when DealDash.com first started in 2009 that only 12 years later this penny auction site would be auctioning off new cars, trucks, boats and now an all-terrain vehicle?
Well that goes to show just how far DealDash has come because all customers, rich and poor, now have the opportunity to shop for a brand new ATV. How exciting is that?
Simply by clicking on the ATV auction, you can read detailed information about the features and capability including the durable automatic transmission, terrain ability, compact chassis, roomy ergonomics and just how tough it is. This ATV has 9.6-inches of ground clearance, a compact chassis, smooth fuel-injected engine, an ultramatic transmission and an exclusive on-command 4WD.
Brief History of ATVs
Did you know the very first ATV was developed in 1961 in Toronto, Canada and it was called the Jiger?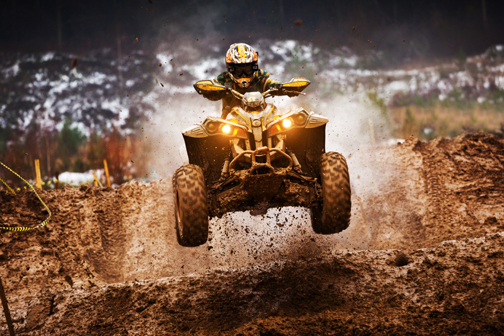 The Jiger was invented by a Canadian named John Gower who was tired of trudging through the snow in frozen Alberta while cutting his firewood. He wanted to create a machine to travel through the outdoors, whatever the terrain might be. The first ATV that had 5 ½ horsepower, weighed 200 pounds and was a 6-wheeled amphibious ATV, which means it could travel on land and water.
In the later 1960s the Amphicat and the Terra Tiger were manufactured. The first 3-wheeler, the Sperry-Rand Tricart, was manufactured in 1968. However, it was the Honda ATC that made 3-wheelers a household name. In 1970, Honda introduced the ATC90 (All Terrain Cycle).
Interestingly enough the movie "Diamonds Are Forever," and the TV shows "Magnum P.I." and "Hart to Hart" helped to increase the popularity of the ATVs.
It was not until 1982, however, that the first ATV was sold. It was a QuadRunner LT125 and it was a recreational machine for beginners. In 1985, the first high-performance 4-wheel ATV, the Suzuki LT250R QuadRacer was introduced.
That led to the ATVs of today.
Watch for More New Items
We never know what other new products we will see on DealDash.com. That's why we should make it a part of our routine to check in on a daily basis.
Will you be the winner of the first brand new ATV?

This sponsored blog post was submitted by: Barbara L. Sellers. Barbara was compensated by DealDash for this blog post. Blog posts are written by real DealDash customers. The opinions and advice here represent our customers' views and not those of the company.