Did you see the new electric moped going up for auction for the first time on DealDash.com?
This e-moped has a BIN of $2,298.00 so new bidders will not be locked out until this item reaches $50.00. Therefore, even if you did not see it until now, you still might have the opportunity to get into this auction.
Say goodbye to the high cost of gas, air pollution and traffic jams. If you don't live too far from work, it might be a perfect alternative to travel on nice-weather days as long as you do not have to drive on an Interstate or highway. Mopeds are usually street legal on all public roads other than highways, but it's best to check your state laws.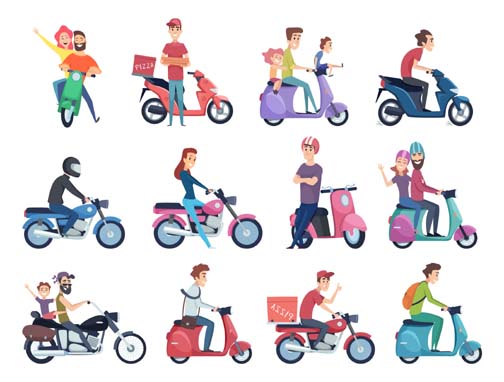 This e-moped can go up to 38 miles on a single battery charge and can reach up to 19.8 mph. The fastest mopeds can go up to 40 mph. The rechargeable battery, which is included, is a built-in 48V 20AH lead acid battery and it can fully charge the moped in 10 hours.
In California, riding a moped requires both valid registration and an M1 or M2 license. If you're a one-car family this e-moped could be a perfect second mode of travel to run nearby errands and make juggling one vehicle a little easier.
The riding comfort might surprise you because it comes with front and rear hydraulic shock absorbers, turn signals, headlights, rearview mirrors, a horn, a remote control, built-in alarm and locking storage compartment. For more details, see the description in the auction listing.
As a 74-year-old grandma living in a metropolitan area, I cannot see myself riding on a moped. However, with all these bells and whistles, if I lived in a small-town rural area I might want to try it. In fact, in some rural areas the home mailbox is sometimes located at the end of a very long dirt or gravel road. In that case, riding a moped might be an excellent way to pick up the daily mail.
History of MOPEDS
According to my research online, the first motorized scooter for adults was developed in 1913 and patented in 1916 by inventor Arthur Hugo Cecil Gibson. The first commercially created motorized scooter was produced in New York in 1916 and was called the Autoped. It was the first mass-produced gasoline-powered scooter on the market.
The four largest motorcycle markets in the world are in China, India, Indonesia and Vietnam. India is home to the largest number of motorized two wheelers in the world and now has an estimated 37 million motorcycles and mopeds.
It is not clear if the acronym MOPED stands for Motorized Pedestrian, Motorized Pedicycle or Motor or Pedal Power.
MOPED can also stand for Ministry of Planning and Economic Development.
Bottom Line
I'm sure you can think of lots of different uses for a new e-moped like this, so make sure you get your bids in before you get locked out when this auction reaches the $50.00 "No New Bidders" limit.
You just might be the winner!

This sponsored blog post was submitted by: Barbara L. Sellers. Barbara was compensated by DealDash for this blog post. Blog posts are written by real DealDash customers. The opinions and advice here represent our customers' views and not those of the company.