Angry Birds is one of the most popular app games of all time! Angry Birds launched in 2009 by Finnish game developer Rovio Entertainment. As of October 2010 over 12 million copies of the popular slingshot game were sold in the Apple App Store.What's the big deal and why is Angry Birds so popular? Angry Birds is addictive, comical and cheap. The popularity of Angry Birds has caused Rovio to create the game across multiple platforms and gaming consoles and a huge market for merchandise has been created. There's Angry Birds bedding even!
Now not only can you play your favorite Angry Birds game on your phone, TV or computer, you can re-construct the Angry Birds Yellow Bird vs. Minion Pig with launcher and stack bricks with this great K'NEX Angry Birds Yellow Bird Vs. Medium Minion Pig Building Set!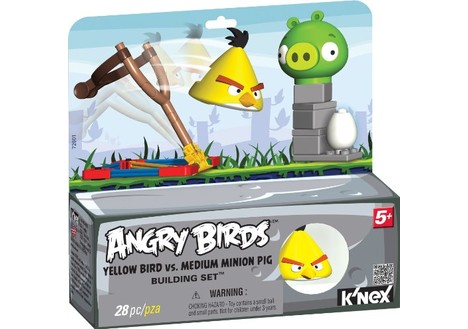 If you are a huge fan of Angry Birds you won't want to miss out on the wide selection of Angry Birds items sold on DealDash. Angry Birds board games, kids hooded towel, bedding, Mattel and Hasbro games, games for WII, Playstation, XBOX and more!
Check out all of the upcoming Angry Birds Auction Deals over at DealDash.com.
Tips for Playing Angry Birds, these tips can also be applied to bidding on DealDash!
1: Make sure you have time to play as this could be time consuming.
2: Know your birds. Know the personality of each bird.
For instance, when you tap the screen while a yellow bird is still in the air you can accelerate his speed. Black Birds can be used to smash through concrete and hard structures.
3. Use different angles when trying to crash a structure, or in bidding, use a different strategy! 
4. Observe and Remember –
Were you successful crashing a building or knocking out pigs with a particular way you were pointing your slingslot? Remember how you did it and repeat. Were you successful bidding by "throttling," (placing a bid as soon as an opponent bids) or by "waiting in the weeds?" Remember what you did to win and try it again in another auction!
5. Have Fun
In playing and bidding, be sure to have fun! Don't stress out if you don't win. Use buy-it now if you have spent a lot of money in bids and lost, that way you can reclaim your bids and get the item at the retail price. If you lose, try again! Just take it easy and don't stress!
This K'NEX Angry Birds Yellow Bird vs. Medium Minion Pig 72601 building set includes more than 27 pieces and lets your child construct a launcher, stack bricks and more for hours of creative play.
What's Included
K'NEX Angry Birds Yellow Bird Vs. Medium Minion Pig Building Set
You can download the Angry Birds Go! game over at http://go.angrybirds.com/ and play right now for free.

Check out the Angry Birds themed items and games auctions on DealDash.com!


Click here for all of the upcoming Angry Birds themed auctions – Be sure to click on "alert me" to know when the auction you like will be open!
Which Angry Bird is your favorite?