Did you see the 12 x 12 x 9 foot round outdoor trampoline on DealDash.com?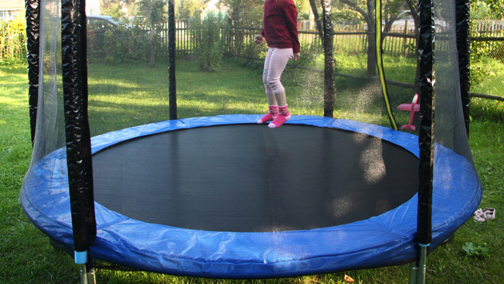 I don't know about your family but most children love to jump. When my two sons were young as soon as they could stand, they started jumping – first by holding onto the crib railing and later by jumping on the sofa and bed mattresses.
Jumping is not all bad because it helps children to build strong leg muscles and good balance, but I worried that they would wear out and ruin our sofa and bed mattresses. I needed a solution and I knew I found one when I saw an outdoor trampoline at our state fair – just like the one on DealDash, except I believe our trampoline was even bigger. That was about 43 years ago and back then these huge round trampolines were a lot more expensive. We paid $1,000.00 for our trampoline but it was well worth it. Having something for my sons to jump on outside prevented our furniture from being destroyed on the inside.
My sons enjoyed jumping on our outdoor trampoline for more than 20 years. In fact, I jumped on it, too, from the time I was 32 to 52 years old and even learned how to do a front flip. It became part of my exercise routine and it was great fun. I feel certain that jumping on my trampoline for so many years might be why I have excellent balance at age 74 and can still run up and down stair cases with no problem.
Safety
Like everything else, safety features and rules are important—especially when it comes to trampolines.
Unfortunately, trampolines could pose a risk for getting head and neck injuries or the possibility for sprains, dislocations or fractures in the arms and legs. About 95 percent of all trampoline injuries occur from falling off the trampoline, landing incorrectly on the frame or springs or colliding with another trampoline user. With proper safety features and common sense safety rules in place, however, trampoline accidents can be prevented.
The trampoline now auctioned on DealDash comes with two of the most important safety features, which greatly reduces the risk of injuries. In addition to having a safety net enclosure to prevent jumpers from falling off, this trampoline also comes with the spring pad that covers the springs to prevent users from accidentally getting a foot stuck in the springs if the jumper lands in the wrong area. That is unlikely because this trampoline also has plenty of jumping surface–88 square feet of it.
My sons and I never got injured on our trampoline in spite of the fact that 43 years ago our trampoline did not come with a protective net around it. Instead, we used "spotters" who stood around the outside of the trampoline to help catch or stop a jumper from falling off. We did have the protective mat to prevent our feet from getting stuck in the springs, and we always followed other common sense safety rules as well. We had rules like only one person jumped at a time to prevent the possibility of colliding with another user, and we never used our trampoline when the mat was wet and slippery. By following these safety rules jumping on our trampoline was fun and safe.
Another one of our safety measures was ensuring that our trampoline was well maintained. When some of the springs got rusty, I replaced them, and when the double-thick trampoline mat got torn I took it to a local tent and awning shop where they had heavy-duty sewing machines and I got it repaired.
Altogether the 12 x 12 x 9-foot round trampoline on DealDash has 72 springs and also comes with hardware assembly tools, spring hook and manual. The frame is made up of rust-resistant steel tubing. This trampoline is intended for children ages 6 and up and has a 200 pound weight capacity. For a more detailed description do a search on the DealDash home page and read the listing.
Benefits
In spite of safety concerns, trampolines can provide many health benefits.
Motor skills are important to many classroom activities. When children jump on a trampoline they work their muscles and cardiovascular systems, so it's a great way to enhance their muscle development, strengthen their bones, improve bone density and reinforce their joints.
According to my online research, trampoline jumping can also help kids calm down, improve their concentration and improve their engagement in learning. Bouncing on a trampoline is great for making the mind more alert and focused, and increases concentration and memory. It helps to increase the circulation of blood and oxygen to the brain.
Bottom Line
Do the health benefits and enjoyment of rebounding on a trampoline out-weight the risk factors of possible injuries? The answer to this question must be answered by each individual family based on your situation. For me and my sons it turned out to be a wonderful health benefit and fun with no injuries. However, if a bunch of neighborhood kids could get access to your trampoline when you are not at home to supervise and enforce safety rules, it might be a good idea to first check out your home-owners insurance and possible liability.

This sponsored blog post was submitted by: Barbara L. Sellers. Barbara was compensated by DealDash for this blog post. Blog posts are written by real DealDash customers. The opinions and advice here represent our customers' views and not those of the company.