Did you know we could bake a pizza in only 60-seconds flat?
Wow! When I read that, I could hardly wait to read more about the new gas powered pizza oven DealDash.com now has up for auction.
This pizza oven has a BIN of $629 and from the auction description listed on DealDash it sounds like it is worth every dollar because this auction actually includes more than the gas powered pizza over itself. It also includes a 33-piece set/case of everything anyone would need to use it to barbecue, too.
Many of us live busy lives and time is precious, so having a pizza oven that can "fire out jaw-dropping pizzas in 60-seconds flat" is pretty awesome. Another thing that impresses me about this pizza over is that "no assembly" is required. This pizza oven is "ready right out of the box." All we have to do is "open the foldable legs, insert the stone baking board, and connect it to a gas tank." It features "instant gas ignition" and can reach temperatures up to 950 degrees F. (500 degrees C), and be ready to cook in 15 minutes. We can then use the "heat control dial to cook pizza in just 60 seconds." It can also be used to roast fish, vegetables and steaks. I really like getting products that I do not have to put together because I would probably have to pay somebody to do it for me.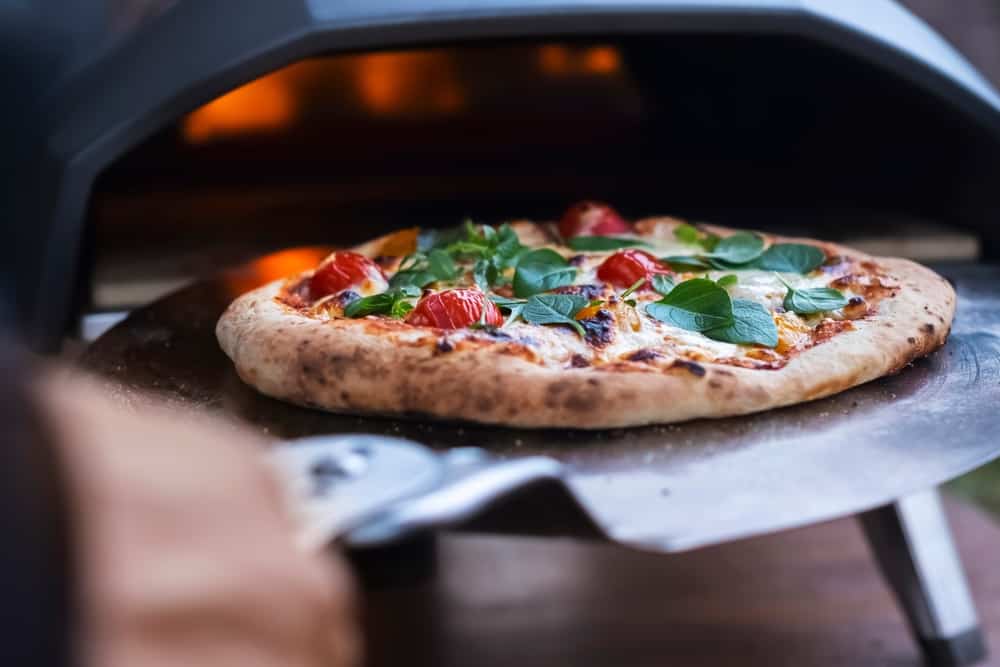 With spring around the corner, we might be soon planning some outdoor BBQ fun with family members, neighbors and/or friends for various social gatherings. With this gas powered pizza oven we will have every utensil we need and then some. This set includes:
A salt cellar and pepper pot
Corncob holders
Six steak knives and six steak forks
An 18-inch BBQ knife
An 18-inch grill scraper
An 18-inch slotted turner,
An 18 ½ inch small brush
An 18 ½ inch meat fork
18 ½ inch tongs
Six 18 ½ inch skewers and
A carrying case.
According to the DealDash description, "Cooking outdoors with gas has never been so simple (or so beautiful)" with "no mess, no fuss." I don't know how it's possible, but this pizza oven apparently has "no need to clean up fuel residue after cooking!"
Sometimes space can be a problem but this pizza oven only weighs 20.4 pounds and it easily fits in any outdoor space. It has a "Commercial grade cold-rolled carbon steel shell with high-temperature resistant, powder-coated finish." A large propane tank is usually used with barbecues but it is also compatible with 1-pound propane tanks with an adaptor. It is not compatible with natural gas.
A brief history of pizza
Raffaele Esposito, a baker from Naples, Italy, is often given credit for making the first pizza pie. However, historians note that street vendors in Naples sold flatbreads with toppings for many years before then. Pizza was brought to America by Italian immigrants in the late 19th century.
In 1905 in New York City, Gennardo Lombardi is credited with developing the first pizzeria parlor in the United States.
Today, Americans love pizza. About 350 slices of pizza are consumed every second in the United States. That is equivalent to 21,000 slices a minute and about 100 acres of pizza a day.
This sponsored blog post was submitted by: Barbara L. Sellers. Barbara was compensated by DealDash for this blog post. Blog posts are written by real DealDash customers. The opinions and advice here represent our customers' views and not those of the company.