DealDash.com always highlights and celebrates our national holidays with many special features, and the Fourth of July holiday will be a huge celebration as well that DealDash shoppers will not want to miss.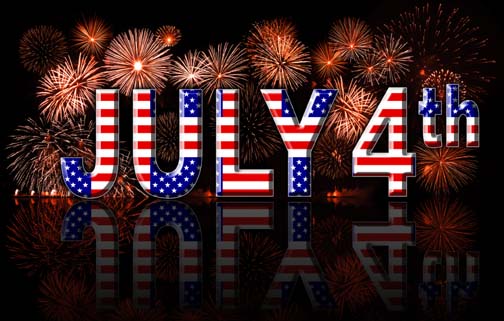 DealDash will offer special bid packs, a car, some special patriot items, and a significantly large time as highest bidder bonus as well as super cheap bids!
Of course, patriotic Americans have made it a tradition to celebrate our Independence Day with family gatherings, outdoor barbecues of hotdogs and hamburgers, watermelon, potato salad and spectacular displays of fireworks. In fact, Americans are expected to consume 150 million hot dogs during the 4th.
But what is this holiday really all about and how much do we really know about the history of the Fourth of July? Did you know the most difficult color to produce in a fireworks display is the color blue?
July 4th History
The vote for independence actually took place on July 2nd and the first public readings of the Declaration of Independence took place July 8, 1776 in Philadelphia's Independence Square? However, the Continental Congress formally adopted the Declaration of Independence, announcing the colonies' separation from Great Britain, on July 4.
Ever since July 4, 1777, Independence Day was celebrated with bonfires, bells and fireworks. The U.S. Congress made Independence Day an unpaid holiday for federal employees. It was not until 1938, however, that Congress changed Independence Day to be a paid federal holiday.
This year, the 4th of July comes on a Sunday. Does that mean working people will still get a federal holiday? Yes. When Independence Day is on a Saturday, it is observed on Friday and when July 4 is on a Sunday like this year, it is observed on Monday, July 5. Government offices and schools will be closed.
Why Shop on July 4
Often times during a special holiday like July 4, many other DealDash shoppers are so busy with family and friends that they might not have time to shop. That means it might be the best time to shop because we might have a lot less competition.

This sponsored blog post was submitted by: Barbara L. Sellers. Barbara was compensated by DealDash for this blog post. Blog posts are written by real DealDash customers. The opinions and advice here represent our customers' views and not those of the company.