My mother had a saying for everything. Some of her favorite ones were: "When the going gets tough, the tough get going," "Those who row the boat don't have time to rock it" and "The Early Bird Gets the worm."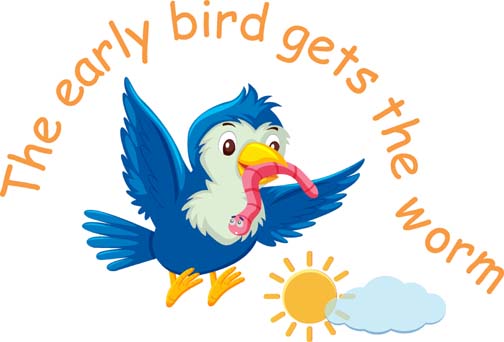 I didn't pay much attention to these sayings when I was young because they all sounded like she was trying to get me to work harder and longer hours. However, some of those pieces of advice came back to me at just the right times when I was older and I now know that some of them can even be applied to DealDash.com shoppers too.
When it comes to shopping on DealDash, "The Early Bird Gets the Worm," could be translated into "Early Shoppers Win the Best Bargains" or "Frequent Shoppers Win the Most Bargains."
Bargains Won in 24-Hours
In spite of its huge following, DealDash shoppers still win outstanding bargains every day.
I just checked the "Winner's List" and I saw that within the last 24-hours, three DealDash customers won a 275 bid pack using only 1 bid and it sold for only 1 cent, 2 cents and 3 cents. In fact, I wrote before that winning deals like this often run in patterns. To prove it, I myself placed bids on a 275 bid pack to see what would happen, and I won, too. I used 26 bids and it sold for 74 cents, but that was still a pretty good deal.
Another shopper won the 425 bid pack using only one bid and it sold for 7 cents. Yet, another shopper won the 600 bid pack using 1 bid and it sold at 53 cents, and these examples were not even the best bargain within the last 24-hour period. Nope. One shopper won the 800 bid pack 12 hours ago using only 1 bid for a selling cost of 4 cents, but the best bargain of all was won only 4 hours ago (as of this writing) by a DealDash customer who used 10 bids to win a 2,500 bid pack that sold for $1.06. Wow!
Not only were several bid packs selling at bargain prices, but one loyal customer used 20 bids to win a stainless steel watch with a BIN (Buy It Now price) of $1,700.00. It sold for $3.01 just 10 hours ago. Also, 6 hours ago (as of this writing) a yellow gold women's watch with a BIN of $375.00 sold for 66 cents and the winner used 11 bids.
Multiple Features
Lately, I've noticed that DealDash often runs more than one feature at the same time.
For example, DealDash is now offering a first runner-up discount in selected auctions. That means if we come in right behind the winner when the auction closes (which happens to me a lot) we might qualify for a discounted price of 50% OFF if we do a Buy-It-Now.
At the same time, DealDash is running a 2X (time as the highest bidder multiplier) so we get 18 seconds on the clock for each bid placed, instead of 9 seconds. That makes our green line move a lot faster so we can earn our free bid pack more quickly.
Bottom Line
Winning just a few awesome deals like the ones I listed above makes shopping on DealDash well worthwhile. Happy shopping everyone!

This sponsored blog post was submitted by: Barbara L. Sellers. Barbara was compensated by DealDash for this blog post. Blog posts are written by real DealDash customers. The opinions and advice here represent our customers' views and not those of the company.