Spring is in the air, and it's time to think about camping! Here are some tips for getting some awesome camping gear on DealDash.
It's getting nicer outside as the days go by, and it's time to think about pulling out your camping gear from the garage or basement. If you see that your gear has seen better days, then it's time to browse on DealDash for some replacements. If your gear is in good condition, you should check out DealDash, anyway, because there are some great new camping items available that you might not own yet. Here are some tips to getting the best camping gear for the best price, from DealDash.
If Your Tent Has Seen Better Days…
Having somewhere comfortable to sleep is paramount when you take a camping trip. If your tent is a bit old and raggedy, it's time to search for a new one on DealDash. Since tents are made from nylon or other types of cloth, they aren't meant to last forever and occasionally need replacing. DealDash has an assortment of different tents for you to choose from, such as the Coleman 6 person tent that you see in the picture above. This is a nice choice for a family who loves to go camping together and enjoy nature. If you prefer to camp solo or with just a friend or two, DealDash also has smaller tents available. Any tent that you win or BIN (Buy It Now) will be brand new and carry the manufacturer's warranty.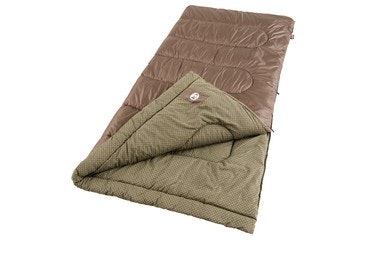 Sleeping Bags
If you have your tent taken care of, what about your sleeping bag? A sleeping bag can really make or break your camping experience in terms of comfort and sleep. The sleeping bag pictured above is made by Coleman and offers a comfy place to bed down when you're in the outdoors. This Coleman cool weather sleeping bag is made for camping temperatures between 30 and 50 degrees, which is perfect for a chilly (but not too cold) Spring overnight. If you would prefer something that can handle even colder weather, DealDash has those, too. Just click on this link here and you can check out the sleeping bags on DealDash.
Bid Now, Camp Later
Depending on where you live, it might not be camping weather yet. However, this shouldn't stop you from bidding on camping items on DealDash. Often, if things aren't quite in season yet there are fewer bidders who want to participate in these auctions. Give it a try! And remember, if you don't win the auction, you can always BIN it for the retail price and receive all of your bids back as a "thank you" from DealDash.
Thanks for Reading
Bidding and winning camping items is a great way to get the items you need with the fun and excitement of bidding. It will put you in a great mood, especially if you're the winner! If you don't need any camping items for yourself, why not get one for a friend or family member?
Thanks so much for reading this DealDash Tips article on camping items on DealDash. Check the different DealDash categories and find something you'll love. Don't forget to check back every day for new articles here are well as on our sister blog, DealDash Reviews. Want to read about a particular item or certain category? Just comment down below on what you would like to read. Have a wonderful day, and happy bidding, everyone!
This sponsored DealDash blog article was written by Dawn E, a mother of 3 who loves DealDash. Dawn was compensated for writing this article. This blog is written by real DealDash customers. The opinions and advice shared here represent our customers' views and not those of the company. Read even more on DealDashReviewed.com, or on her own blog, DawnBlogtopus.