What is a Newbie? A "Newbie" is a term we sometimes use when referring to new customers shopping on DealDash.com.
We were all "Newbies" at one time, and we did not all read all the rules, guidelines and tips on how to play smart before we first started shopping. Let's face it. When we were Newbies most of us did not really know what we were doing but we did know how to click the "bid now" button that we saw on the home page.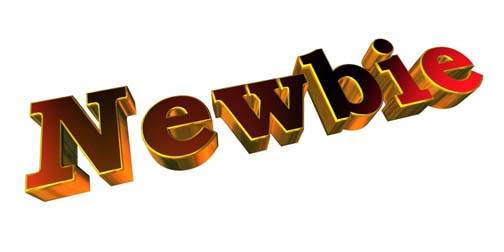 Many of us did not even know how to find and use the automated bidder, BidBuddy. Therefore, we did not even know how many other players were competing in the same auction. It is easy to identify a Newbie. Here are some telltale signs:
Wasted Bids
The most obvious sign that somebody is a brand new DealDash shopper is when we see the same screen name wasting bids. Since many Newbies are not using BidBuddy they cannot see how many other players are competing in the same auction. By placing another bid every time another shopper bids, they wrongly believe that will improve their chances of winning when, in fact, just the opposite is true. By wasting bids, the Newbies are actually decreasing their chances of winning.
It used to irritate me whenever a Newbie cut the clock and cheated me out of my full 9 seconds toward earning my free bids. However, the good news is that DealDash has corrected that issue. Now, whenever a Newbie cuts the clock, we still get the full 9-seconds credited for each bid we use. I was so happy when DealDash did that.
When a Newbie gets curious enough to open up the auction they want to win and they see the window open up where BidBuddy is hiding, they are on their way to becoming a better player. Once they see how many other shoppers are competing in the same auction and can also see how BidBuddy places the bids for us, taking turns, one at a time, they usually soon realize they had been needlessly wasting their bids. Some Newbies catch on and learn more quickly than others, but eventually most Newbies get on board with the rest of us, so we need to learn how to be as patient with them as others were to us.
Beating the Clock
Another sign that a player is a Newbie shopper on DealDash is when they respond as if they think it's a race. Not only will some Newbies cut the clock, but they often try to beat the clock, almost as if it's the Indy 500 car race. Some Newbies might have been shopping on other penny-auction sites where speed does make a difference, but they will soon learn that speed does not help anyone win auctions on DealDash.
Checking the Bios
Whenever a bid is placed, we can see the date when shoppers joined DealDash by looking at the biographical information that appears each time a shopper places a bid. But why is this important for us to know?
I don't know about you, but experienced shoppers like me might not consider a Newbie to be a serious competitor because they are usually easier to outbid. Newbies often foolishly use up all of their bids early in the auction and have not yet developed a winning strategy. That's why I would rather see a Newbie battle it out with me in the final stretch of an auction rather than take on another experienced shopper.
Welcome aboard all you Newbies in DealDash land and I hope you enjoy your new fun and exciting DealDash shopping experience.

This sponsored blog post was submitted by: Barbara L. Sellers. Barbara was compensated by DealDash for this blog post. Blog posts are written by real DealDash customers. The opinions and advice here represent our customers' views and not those of the company.