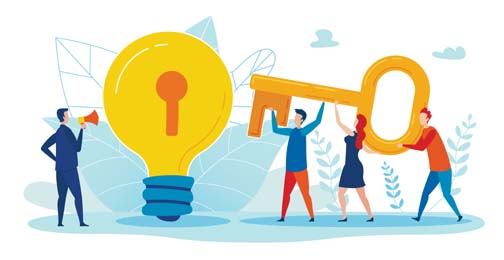 I've been buying bid packs and shopping on DealDash.com for more than nine years — long enough to know there are two main keys to winning auctions – Common Sense and Strategy.
I believe shoppers who understand and apply these two keys will be able to unlock the doors to winning more auctions at bargain prices.
Some of the lessons I write about I learned the hard way, but once I learned the two keys to winning, however, I did a lot better.
Let's take a close look at exactly how these two keys work.
1. Common Sense
When shopping on DealDash common sense means we know how to logically process the information we can see to make good bidding decisions.
Let me give you a specific example that I just experienced a few days ago.
DealDash had a one-zipper little clutch purse that I never before saw for auction. I love those mini clutch bags because they can be used in so many different ways – to hold makeup, loose change or IDs and house keys if I just want to carry something light instead of my big, heavy purse. Therefore, I placed a significant number of bids it.
When the bidding got down to the last three or four players, I checked the winner's list to see if any of my final competitors recently won a large bid pack. This is what I found:
One of the final players recently won two bid packs – one 250 bid pack and one 200 bid pack. Based on that alone I might have thought this player had a lot more bids than me. But then I saw how many bids this shopper used to win his two bid packs. He used 353 bids to win 250 bids and he used 248 bids to win 200 bids. In other words, that shopper paid close to $10 each time to lose more bids than he won.
Of course, I don't know how many bids that shopper purchased, but this is where common sense comes into play. Based on that information I could conclude that shopper could run out of bids and I might still win the auction. However, common sense also told me something else. This shopper showed a pattern of overbidding to win. That is not the kind of shopper I want to compete with, so common sense told me to cancel the rest of my bids.
2. Strategy
After I canceled my bids and stopped competing in that auction, then what? This is where strategy comes into play.
Strategy means we have a plan on how to win and a backup plan of what to do when we don't win. Our backup plan could be to BIN (Buy It Now) and get all our bids back. One long-time shopper has a strategy to only place a minimal number of bids at the beginning of each auction, so I know I can outbid that shopper. However, whenever he does win he always wins great bargains, so it's a strategy that works well for him.
My strategy is to get out of auctions that look like they are too difficult to win and save my bids for another duplicate auction that looks like I can win. That usually means not competing in auctions with more than 30 original bidders and stop competing in auctions that have one or more power bidders and/or one or more shoppers with a pattern of over-bidding.
My next step was to do a search to see if any more of the clutch purses were coming up for auction again. Wow! To my delight, I saw that DealDash has several of these purses in even more beautiful colors. Some auctions sell high and some auctions sell at bargain prices.
If we have the right strategy, we will be there when the auctions sell at bargain prices.

This sponsored blog post was submitted by: Barbara L. Sellers. Barbara was compensated by DealDash for this blog post. Blog posts are written by real DealDash customers. The opinions and advice here represent our customers' views and not those of the company.