Are you shopping on a limited budget these days? If so, take heart and shop smart on DealDash.com. Many customers still win wonderful items here every day at bargain prices.
Today I decided to write about some awesome products for people shopping on a limited budget.
How about some low-cost items we might need to spend some happy summer days in the sun? DealDash has just what we need. I already spotted a low-cost beech chair and a low-cost hammock. Even people on a tight budget might have fun shopping here for these items.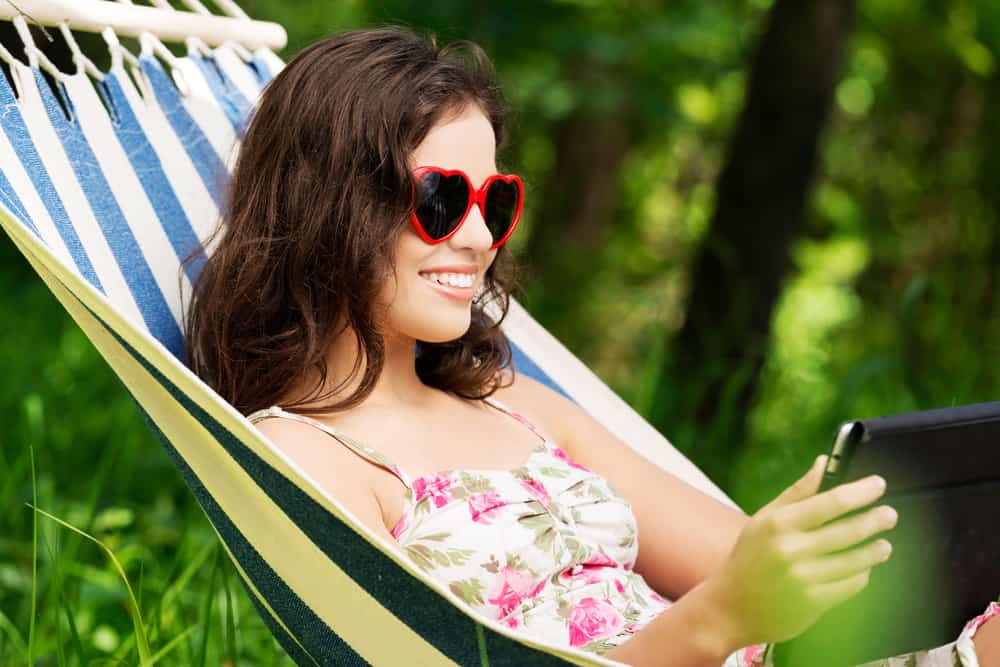 Beach chair
This blue flower aluminum beach chair with a side pocket and a detachable cooler bag has a BIN of $100.
So far, the best deal a shopper received was when this beach chair sold May 13 at $4.12 and the winner paid a total of $4.02 including the cost of the 16 bids placed. Sometimes it's possible to pay less than the selling price when the feature of the day gives winners a discount.
According to the auction description, "the durable 600-denier polyester fabric with lightweight, rust-proof, aluminum frame can hold up to 275 pounds." This chair also includes a pillow, and padded back straps to make it easy to transport on our back. It comes with a zippered lined storage pouch, cell phone holders, storage pocket, a mesh cup holder and a folding towel rack. Best of all, it is adjustable to 5 reclining positions, including fully reclined.
So far, this beach chair has not been reviewed by any previous winners.
DealDash also has more styles of beach chairs that are going up for auction, so shoppers might want to check them out, too.
Hammock
Another item shoppers often look for to enjoy the summer sun are hammocks, and DealDash has several different styles up for auction.
My brothers and sisters and I grew up on a Minnesota farm and we often made our own hammocks using braided twine string, but they were not as comfortable as the hammocks now up for auction on DealDash. We had to add blankets and pillows. We once made a giant hammock that held about six of us kids at a time and we hooked it up between two trees about eight feet off the ground. On hot nights we sometimes slept in it to stay cool because we did not have air conditioning, and Minnesota summers can get extremely hot at night. Anyone who spent a summer there probably experienced that.
One double fabric hammock on DealDash that caught my eyes has a beautiful teal color and a 60-inch-wide by 78-inch bed, with an overall length of 10 feet.
According to the auction description, it can accommodate two adults as long as they don't go over the 400-pound weight limit. It comes with a built-in stand and carrying case and its own hanging hardware, so we would not have to hook it up between trees.
The colorfast poly/cotton fabric is soft, strong, and breathable and conforms to body weight; and the 9-foot stand, with powder-coated steel, is easy to assemble. This hammock can be used indoors or outdoors any time we just want to relax.
Best of all, it has a BIN of only $200 so if we do not win it, perhaps we could afford to BIN it and get all our bids back free to shop for something else. So far, the best deal a previous shopper won for this teal hammock was May 11 when this auction closed at $2.82 and the winner paid a total of only $12.22 including the 47 bids placed.
The bottom line
If we ever wanted to shop for beach chairs or hammocks, now is a good time to shop for them on DealDash.com.  Who knows?  You could be the next one to win a great bargain. I'll see you in the auctions!

This sponsored blog post was submitted by: Barbara L. Sellers. Barbara was compensated by DealDash for this blog post. Blog posts are written by real DealDash customers. The opinions and advice here represent our customers' views and not those of the company.