It's that time of year again – time to do some spring cleaning throughout our entire house. Perhaps we could do some spring cleaning outside in our yards as well.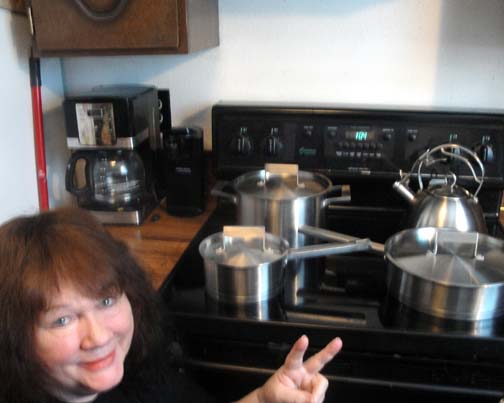 Spring cleaning usually involves thoroughly dusting and cleaning each and every room, getting rid of clutter and replacing old, worn-out items with new ones. In other words, this is the perfect time to throw away our old sheets, dishes, silverware, pots and pans and replace them with new ones.
Home Improvement Week
DealDash.com is going to help its loyal shoppers do just that during its "Home Improvement Week" from April 26 through April 30. That's one event we won't want to miss because DealDash will be highlighting many products we might need for our home.
A good way to start planning for the DealDash "Home Improvement Week" might be to make a list of some of the products DealDash already has available such as: An ergonomic office chair, massage chair, knife sets, sheets, duvet covers, sewing machine, laptops, popcorn machine, ceramic dish set, pancake pan, stainless steel cookware sets, placemats and a very popular cast iron casserole bowl.
After making my list, I went through my house to see which items I already had and which items I might want to replace. One item I would like to replace is my office chair because the one I'm using now is rather old and has tears in the fabric on the arms and seat. To have good enough back support I have to put an extra pad in the office chair, so it would be nice to win an ergonomic office chair that probably offers better back support, which is especially important for senior citizens.
Items I Already Won
Let me tell you about some of my favorite household items I already won on DealDash over the last several years.
What I use most often are my stainless steel pots. I won all three of them (one at a time) — the sauce pan, the stock pan and the sauté pan. These stainless steel pots are so well made that I'm sure they will last me a lifetime, and they will probably even last through my granddaughter's life time. I use the sauce pan every day to cook soup and vegetables. It's the perfect size when cooking for only one or two people. I used the stock pan to boil a couple dozen eggs for Easter. The stock pan would also be the perfect one to use when cooking for a large group of people. When I'm making hamburgers, instead of using a frying pan, I love using the stainless steel sauté pan. The sauté pan is larger than most frying pans and the sides are higher so I don't get as much splatter.
I also love the many sheet sets and duvet covers I won on DealDash. I was able to win sheet sets for both my king- and queen-size beds. Both of my beds have a thick mattress with a mattress topper on them, but the sheet sets have deep enough pockets so they fit very nicely over them. The sheets are also made of high-grade cotton so they are very comfortable. My duvet covers are awesome, too. They keep me so cozy warm that on cold mornings I don't want to get out of bed.
I look forward to the nice warm days when I can open my windows, let the sun shine in and enjoy clean, fresh air. Most of all, I look forward to seeing all of the home improvement items to be featured on DealDash. Happy shopping everyone!

This sponsored blog post was submitted by: Barbara L. Sellers. Barbara was compensated by DealDash for this blog post. Blog posts are written by real DealDash customers. The opinions and advice here represent our customers' views and not those of the company.