When you shop on DealDash.com do you have the King Midas Golden Touch?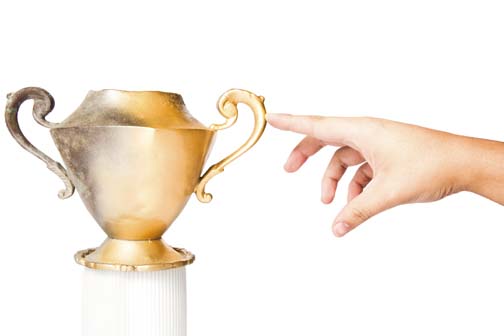 Of course, the main purpose of Greek mythology is to teach a lesson. In this story we learned that King Midas so greedy that he wished everything he touched would turn to gold, and Dionysus granted him his wish. When he learned that even his food and wine turned to gold, King Midas nearly starved to death. He even accidentally killed his daughter Marigold (Zoe by some accounts) when he touched her and turned her into gold and could not turn her back again.
King Midas then prayed Dionysus would reverse his wish, which had now become more like a curse. Dionysus felt sorry for King Midas so he told him he would have to visit the Pactolus River to wash himself from the curse to make everything become normal again.
By the end of this story, King Midas learned the important lesson to be careful what he wished for. He also learned the most important things in life are often right in front of us and we simply need to recognize and appreciate what we already have.
Do you ever see shoppers on DealDash who win so many auctions that they appear to have the King Midas Golden Touch? How many of us are like King Midas and are so greedy and determined to win that we even overbid the value of the auction product.
I won my share of auctions in the past, but if I want to continue to win auctions now, I must follow my own set of rules, which I did not always do this weekend even though I know better. I guess we all have our off-days.
From now on I think I'll keep a list of the following "Don't Do's" as a reminder:
Do not bid in auctions that have more than 30 shoppers. This is something I seldom do because the fewer the participants, the lower the competition. This is not always true, however, when everyone places only one bid.
Do not place all of your eggs in one basket. In other words, it might not be a good idea to place too many bids in just one or two auctions. It has been my experience that an auction usually sells very early or very late, so I usually win more and better deals if I place fewer bids in several different auctions.
Do not allow yourself to become distracted by other things. If I had been paying close attention I most likely would have won the first 500 bid pack that I participated in because it sold early. If we know we might get distracted it might be a good idea to place more bids in the first place to cover our absence.
Do not compete with a power bidder or one or more "no-quitter bidders." A "no-quitter bidder" is any shopper who has been bidding in an auction from the very start and is still there after the "No New Bidder" banner goes up. "No-quitter bidders" are usually determined to stay in the auction for the long haul. They are seriously in it to win it – even if it means they will have to over-bid the BIN price of the auction. I never before saw more over-bidders than I saw this weekend. It's not always easy for any of us to quit bidding when we know we should. Many of us are better off not even trying to out-bid a "no-quitter bidder."
We cannot all have the "King Midas Touch" where everything turns to gold, but if we discipline ourselves enough to follow our own common-sense rules the next time we shop on DealDash we will get back on the winning track.

This sponsored blog post was submitted by: Barbara L. Sellers. Barbara was compensated by DealDash for this blog post. Blog posts are written by real DealDash customers. The opinions and advice here represent our customers' views and not those of the company.