I saw an article on Consumer Press by Chris Andrews, where he asks the question: Is DealDash.com Legit or is it a scam?
To make his point, Andrews used as an example the TV that I won. Yes, I was the lady in the first TV commercial I've been bidding on the DealDash shopping site since Feb. 8, 2012.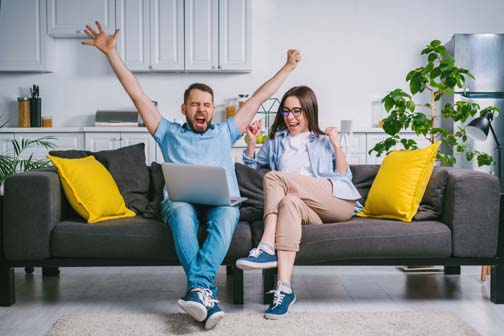 There's a lot wrong with that article. Let me count the ways.
In the Early Days
When the company was just getting started and they were still fairly small, it was a lot easier to win bargains because there was not much competition. However, now that DealDash has grown into a much larger company, you have to know what you're doing, and many shoppers do not have the foggiest idea how to shop on this site to win.
Andrews said if bids cost 60 cents each and I used 414 bids to win the 55-inch TV, plus the $29.95 closing cost, that TV actually cost me $248.40 instead of less than $30.00 and that's simply not true. Few DealDash.com shoppers pay a full 60 cents per bid. I usually wait until the bid packs go on sale for 10 or 11 cents per bid. Also, DealDash customers often bid on and win bid packs, which I did. When we win bid packs, we might only pay a few pennies per bid instead of the full cost of 60 cents per bid.
I won two bid packs before bidding on the TV set, which was worth $1,300, not the $1,700 mentioned here, and I did not have to pay the sale price of $29.95 because I won the TV several years ago when DealDash had a "free to the winner" feature. They do not have that feature anymore but they were trying it out for the first time on the night I won the TV. Shipping and handling is also free. So when I do the math, I did win the TV for less than $30.00. Is that typical? No. But does it really happen? Yes.
So is DealDash legit? Yes. Can people actually win great bargains? Yes. If we look at the winner's list, we can see fantastic deals that some DealDash customers win every single day. What's the catch? I'll be honest with you. The catch is that DealDash customers who want to win a bargain have to learn how to play smart. We cannot just click on bid now or put bids into BidBuddy and expect to win. If you do not know how to play smart, you can lose more than you win. After all, DealDash is a business and it has to make money just like any other business.
Earning Free Bids
There are a couple other factors I did not mention. DealDash gives us all kinds of opportunities to win free bids.
Customers get 10 seconds on the clock every time we place a bid. Once our green line gets all the way to the right, we win free bids. I'm on Level 74 and just won 1,140 free bids. Every day we sign in, if we use 30 bids the day before, and then sign in the next day, we get 30 free bids back. Every day DealDash also offers a "daily challenge" where we can earn more free bids than we use to meet the challenge. Since we only need to place one bid in each of the 10 bid packs, we can get 5 bids ahead every day by meeting the daily challenge.
Another way we can accumulate free bids is by exchanging the auction product we win for bids instead. If we do that, we do not have to pay anything for the product we won. It will tell us how many free bids we can get in exchange for the item we won. I'm sure some customers on DealDash know how to play smart and win more than they lose. I've been watching them and studying them for several years. That's why I tell family and friends who ask me about DealDash that before they play they should read some of my hundreds of blogs explaining how to play smart. I admit I learned some of the winning tips I write about the hard way. However, I have to hand it to DealDash that they are willing to put all this information out there for anyone and everyone to read.
Some people are just too lazy to read or study how to play smart but whose fault is that? For example, many new players often start to bid from the Home Page, one bid at a time, and do not even know how to use the automated bidder BidBuddy. I was once told that 99 percent of the winners use the automated bidder, but you have to double click on the auction for the window to open up so you can see what's happening. The information is out there for anyone who wants to become an expert player and win more auctions.
Entertainment

Some people do not need to win the auctions and do not shop on the site to win auctions. Some customers just find this shopping site to be highly entertaining and a way to pass time when they are bored.

Is DealDash a legitimate shopping site? Yes. Is it a fair and honest shopping site? Yes. Is there a catch? Yes. If you want to win, you have to know what you're doing. There's a lot more to winning than pressing buttons. The good news is that DealDash has implemented win limits and cuts off all new bidders after the auction reaches a specified limit (usually $5) which does make it possible for everyone to win auctions instead of just a handful of elite power bidders.
Customer Service
It doesn't take long for DealDash users to discover that the company works really hard to offer great customer service. Their customer service team is available 24/7 and the company makes it no secret that it aims for the highest standards of customer support.
The proof is in the reviews from users. While some users might have initial struggles using and learning DealDash auctions, the company's support staff responds to each and every review — including the negative ones, to ensure all users can have a great experience. By offering its support to users who are on their way to learning the nuances of DealDash auctions, the company often turns a negative into a positive.
There's a great example of that on SiteJabber, where DealDash has an average consumer rating of over 4 out of 5 — with more than 4,200 reviews and counting.
The overview from SiteJabber:
As Alex U. wrote on SiteJabber in May 2020: "I recently won a bidding on DealDash. However, about a week later, the consumer services called me to mention that the product I have won had run out of stock according to their supplier. Despite this, they tried to compensate with various substitues of a similar value together with a free bid package to make up for their mistake. As the options provided were really good, I choose a different set and it arrived through FedEx in two days which impressed me a lot! Appreciate your services greatly!"
You can find similar stories by reading the customer reviews on TrustPilot, which has been receiving DealDash reviews since 2014. On TrustPilot, 81% of DealDash reviews give the company 5 stars.
Unfortunately, not every DealDash customer is fully satisfied with the company's auctions. The fast paced auctions may not be for everybody, but even among unsatisfied customers, the company clearly works hard to address the issues of each and every person who contacts them for help or leaves an unhappy review. DealDash also offers a 90 day money back guarantee on the first bid purchase, so everyone can try the auctions out, risk free!
That being said, there's no denying that the vast majority of customers love using DealDash. In addition to the positive reviews of DealDash on Google, there's also the company's dedicated web page of auction winners showing off the products they received in the mail after winning them in DealDash auctions.
Professional Accreditation
New customers are sometimes confused about the process of DealDash auctions, and that can lead to suspicions about how they work and how DealDash makes money.
To put those fears to rest, DealDash hired a third-party company in 2020 to perform an external audit of the DealDash bidding platform. DealDash wanted to prove that the company was NOT a scam, and there was NO tampering of the systems.
That's exactly what the report concluded. Anyone who wants to see the report can request it from the company's Customer Support team.
In addition, DealDash has long been accredited by the Better Business Bureau, whose entire mission is to protect consumers from unscrupulous business practices. DealDash has an A+ rating from the BBB, which you can see on its profile here.
In addition, customers can also post reviews on BBB, where DealDash has an average rating of 4.31 out of 5 stars.
As Joanne T. recently wrote on March 2, 2022: "I've been on DEALDASH for over five years now and enjoy playing every day. There are many ways to get FREE bids and the auctions are fun and exciting. I think I get an adrenaline rush with the possibility of a win and, of course, there is always the agony of a defeat! I think that DEALDASH is really an honest and fair bidding site as they say. It is great entertainment!"

Bottom line: People who know how to play smart on DealDash love this shopping site. Those who do not learn how to play smart probably should not play unless they cannot afford to lose. But if you do lose an auction and BIN (Buy-It-Now) you can get all your bids back free to try again in another auction without having to buy more bids. Read my blog posts.

This sponsored blog post was submitted by: Barbara L. Sellers. Barbara was compensated by DealDash for this blog post. Blog posts are written by real DealDash customers. The opinions and advice here represent our customers' views and not those of the company.