I saw an article on Consumer Press by Chris Andrews, where he asks the question: Is DealDash.com Legit or is it a scam?
To make his point, Andrews used as an example the TV that I won. Yes, I was the lady in the first TV commercial I've been bidding on the DealDash shopping site since Feb. 8, 2012.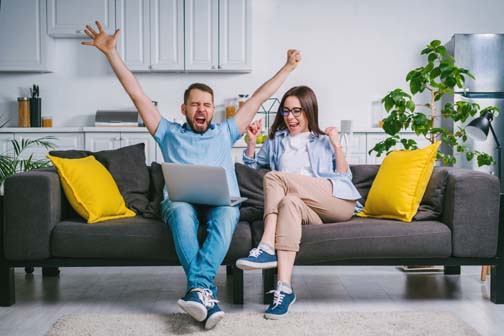 There's a lot wrong with that article. Let me count the ways.
In the Early Days
When the company was just getting started and they were still fairly small, it was a lot easier to win bargains because there was not much competition. However, now that DealDash has grown into a much larger company, you have to know what you're doing, and many shoppers do not have the foggiest idea how to shop on this site to win.
Andrews said if bids cost 60 cents each and I used 414 bids to win the 55-inch TV, plus the $29.95 closing cost, that TV actually cost me $248.40 instead of less than $30.00 and that's simply not true. Few DealDash.com shoppers pay a full 60 cents per bid. I usually wait until the bid packs go on sale for 10 or 11 cents per bid. Also, DealDash customers often bid on and win bid packs, which I did. When we win bid packs, we might only pay a few pennies per bid instead of the full cost of 60 cents per bid.
I won two bid packs before bidding on the TV set, which was worth $1,300, not the $1,700 mentioned here, and I did not have to pay the sale price of $29.95 because I won the TV several years ago when DealDash had a "free to the winner" feature. They do not have that feature anymore but they were trying it out for the first time on the night I won the TV. Shipping and handling is also free. So when I do the math, I did win the TV for less than $30.00. Is that typical? No. But does it really happen? Yes.
So is DealDash legit? Yes. Can people actually win great bargains? Yes. If we look at the winner's list, we can see fantastic deals that some DealDash customers win every single day. What's the catch? I'll be honest with you. The catch is that DealDash customers who want to win a bargain have to learn how to play smart. We cannot just click on bid now or put bids into BidBuddy and expect to win. If you do not know how to play smart, you can lose more than you win. After all, DealDash is a business and it has to make money just like any other business.
What are the rules of DealDash?
While DealDash is fun to play and community involvement is encouraged, there are rules for playing and winning with DealDash.
DealDash takes user safety and happiness seriously. DealDash uses its discretion to void auction wins, shut down accounts, and revoke the rights of those caught using tools that aren't allowed or participating in any other prohibited activity to give themselves an unfair advantage in auctions.
No multiple accounts are allowed
Each user is only allowed to maintain control over one account, WITHOUT EXCEPTION. Per household, there may only be 2 active accounts maximum.This is intended to ensure no one has an unfair advantage over any other user by operating multiple accounts in an attempt to farm wins.
Reselling items is prohibited
It is not permitted to resell any products that you obtain from DealDash. This is because DealDash wants to offer the best possible deals for genuine customers and not resellers. Any user caught violating will result in their account being closed. This is to pass the savings to genuine customers and help keep DealDash legit.
DealDash has winning limits to keep things fair
DealDash is legit, which means they have winning limits in place to ensure everyone is playing on an even field. Here is a breakdown of the limits that apply to all users:
Once-Per-Month
A user is only able to win a particular item once per 30 days. Any active BidBuddies (a tool used to help users bid on auctions) that are bidding on the same item in other auctions will be automatically canceled. Again, this is to keep things fair.
Users can only win 50 auctions in a single week
Once you reach the limit, all remaining BidBuddies on other auctions will be automatically canceled. You can bid again when the limit resets.
Team play is prohibited
It is strictly forbidden to work with family members, friends, or acquaintances in an attempt to win auctions. Bidders who are caught participating in teams will have all of their auctions voided, and if repeated instances occur, they will be permanently suspended from auctions without the option to have a refund. DealDash is a legitimate website that wants everyone to have equal opportunity and this behavior is not tolerated. DealDash utilizes sophisticated software, monitoring systems, and safety protection measures to detect bidders who violate this policy. DealDash encourages bidders to report any suspected team players to the DealDash support team.
Third-Party Bidding Software
The use of any kind of bidding software outside of DealDash's approved BidBuddy is strictly forbidden.
Username Policies
Usernames are not allowed to include obscene language, nor be intentionally misleading or chosen with the clear intention of impersonating another user.
Employees and Immediate Family Members
DealDash employees, including their family members (this means spouses, parents, siblings, and children), and any other person residing in the same household as employees may not, under any circumstances, participate in DealDash auctions. Again, this is to ensure that DealDash is legit and no one feels their ability to win fairly is compromised.
Still not convinced that DealDash is legit? How about we look at DealDash reviews?
Earning Free Bids
There are a couple other factors I did not mention. DealDash gives us all kinds of opportunities to win free bids.
Customers get 10 seconds on the clock every time we place a bid. Once our green line gets all the way to the right, we win free bids. I'm on Level 74 and just won 1,140 free bids. Every day we sign in, if we use 30 bids the day before, and then sign in the next day, we get 30 free bids back. Every day DealDash also offers a "daily challenge" where we can earn more free bids than we use to meet the challenge. Since we only need to place one bid in each of the 10 bid packs, we can get 5 bids ahead every day by meeting the daily challenge.
Another way we can accumulate free bids is by exchanging the auction product we win for bids instead. If we do that, we do not have to pay anything for the product we won. It will tell us how many free bids we can get in exchange for the item we won. I'm sure some customers on DealDash know how to play smart and win more than they lose. I've been watching them and studying them for several years. That's why I tell family and friends who ask me about DealDash that before they play they should read some of my hundreds of blogs explaining how to play smart. I admit I learned some of the winning tips I write about the hard way. However, I have to hand it to DealDash that they are willing to put all this information out there for anyone and everyone to read.
Some people are just too lazy to read or study how to play smart but whose fault is that? For example, many new players often start to bid from the Home Page, one bid at a time, and do not even know how to use the automated bidder BidBuddy. I was once told that 99 percent of the winners use the automated bidder, but you have to double click on the auction for the window to open up so you can see what's happening. The information is out there for anyone who wants to become an expert player and win more auctions.
Entertainment

Some people do not need to win the auctions and do not shop on the site to win auctions. Some customers just find this shopping site to be highly entertaining and a way to pass time when they are bored.

Is DealDash a legitimate shopping site? Yes. Is it a fair and honest shopping site? Yes. Is there a catch? Yes. If you want to win, you have to know what you're doing. There's a lot more to winning than pressing buttons. The good news is that DealDash has implemented win limits and cuts off all new bidders after the auction reaches a specified limit (usually $5) which does make it possible for everyone to win auctions instead of just a handful of elite power bidders.
Customer Service
It doesn't take long for DealDash users to discover that the company works really hard to offer great customer service. Their customer service team is available 24/7 and the company makes it no secret that it aims for the highest standards of customer support.
The proof is in the reviews from users. While some users might have initial struggles using and learning DealDash auctions, the company's support staff responds to each and every review — including the negative ones, to ensure all users can have a great experience. By offering its support to users who are on their way to learning the nuances of DealDash auctions, the company often turns a negative into a positive.
There's a great example of that on SiteJabber, where DealDash has an average consumer rating of over 4 out of 5 — with more than 4,200 reviews and counting.
The overview from SiteJabber:
As Alex U. wrote on SiteJabber in May 2020: "I recently won a bidding on DealDash. However, about a week later, the consumer services called me to mention that the product I have won had run out of stock according to their supplier. Despite this, they tried to compensate with various substitues of a similar value together with a free bid package to make up for their mistake. As the options provided were really good, I choose a different set and it arrived through FedEx in two days which impressed me a lot! Appreciate your services greatly!"
You can find similar stories by reading the customer reviews on TrustPilot, which has been receiving DealDash reviews since 2014. On TrustPilot, 81% of DealDash reviews give the company 5 stars.
DealDash reviews
Everyone has an opinion, and rightfully so! And with the ability to make those opinions live on the internet, everyone has the ability to have a voice. Reviews offer you the chance to make up your mind about whether or not you want to buy a product or service. There are 33,000 DealDash reviews left by real customers over on the Apple App Store with a score of 4.3 out of five. That's a pretty good rating, but how about we look at some reviews?
DealDash reviews exist across multiple third-party platforms, offering DealDash users the ability to share their takes on its services.
"I have won a ton of beautiful items on DealDash. It is fun and exciting! I am not rich, tho. I choose my auctions carefully and bid at times when I am more likely to win. Their customer service is the best. I have had nothing but wonderful times. Every single day I enjoy and appreciate the things that I have won. Thank you DealDash!" – Patti, Sitejabber
"I am a Deal Dash Junkie!! I have been bidding and winning auctions in Deal Dash for about 5 years now and love, love love it. The products are awesome and if you ever have a problem with a product, Deal Dash support is there and always so very helpful and quick to resolve the problem. I just had an issue with a pair of earbuds I won and I contacted DD Support the day I received them and they emailed me a return label and set up a replacement of similar, same-value, earbuds. I received the new bids and they work great! I have never had an issue with DD and would recommend them to ANYONE!! Thank you, DD for being AWESOME!!"– Kimberly, Amazon"Awesome app and sometimes you can get great deals like $0.48 for a 3 piece queen size cover set tax included. Amazing!!!" – Walter, Google Play
Unfortunately, not every DealDash customer is fully satisfied with the company's auctions. The fast paced auctions may not be for everybody, but even among unsatisfied customers, the company clearly works hard to address the issues of each and every person who contacts them for help or leaves an unhappy review. DealDash also offers a 90 day money back guarantee on the first bid purchase, so everyone can try the auctions out, risk free!
That being said, there's no denying that the vast majority of customers love using DealDash. In addition to the positive reviews of DealDash on Google, there's also the company's dedicated web page of auction winners showing off the products they received in the mail after winning them in DealDash auctions.
Professional Accreditation
New customers are sometimes confused about the process of DealDash auctions, and that can lead to suspicions about how they work and how DealDash makes money.
To put those fears to rest, DealDash hired a third-party company in 2020 to perform an external audit of the DealDash bidding platform. DealDash wanted to prove that the company was NOT a scam, and there was NO tampering of the systems.
That's exactly what the report concluded. Anyone who wants to see the report can request it from the company's Customer Support team.
In addition, DealDash has long been accredited by the Better Business Bureau, whose entire mission is to protect consumers from unscrupulous business practices. DealDash has an A+ rating from the BBB, which you can see on its profile here.
In addition, customers can also post reviews on BBB, where DealDash has an average rating of 4.31 out of 5 stars.
As Joanne T. recently wrote on March 2, 2022: "I've been on DEALDASH for over five years now and enjoy playing every day. There are many ways to get FREE bids and the auctions are fun and exciting. I think I get an adrenaline rush with the possibility of a win and, of course, there is always the agony of a defeat! I think that DEALDASH is really an honest and fair bidding site as they say. It is great entertainment!"
DealDash FAQ
Is DealDash Even Really Safe to Use?
DealDash prides itself on being 100% committed to customer safety and satisfaction. In fact, other than securing you great deals, it's the number one priority. DealDash has several safeguard features to minimize risk and ensure you can bid without concerns. DealDash offers a 90-day money-back guarantee on your first bid back, no questions asked. They also offer secure payments for credit, debit, and PayPal.
But how is it that DealDash can offer such deals?
It might seem too good to be true, but DealDash is able to offer such great deals by making strong partnerships with suppliers, producers, and customers. You could say it's their secret to great deals, allowing them to harness the power to keep the winning auction prices as low as possible and pass on that value to its users.
Are there any hidden fees associated with DealDash?
Not a single one! It's free to sign up and all you pay for are the bid packs used in auctions. However, should you not win an auction, DealDash does offer the ability to purchase items directly from the site if you don't win an item that you really want
If the deals are so good, where are these products even coming from?
Realistically? Everywhere! DealDash works directly in partnership with major retailers, brands, and distributors in order to source the best possible products and keep the selection fresh.
And, before you ask: yes, all the products are brand new and come in their original packaging WITH the exception of cars… but those are also new, they just don't make boxes big enough to fit them.
So… is DealDash legit? This in-depth analysis of the policies and procedures seems to be pointing in the right direction! Seems like DealDash offers some real deals that its users can reap the rewards.  
Why shoppers love DealDash!
Looking for a way to save money on the products you love? Look no further than DealDash, the penny auction website that has been winning over shoppers across the country. With its easy-to-use platform, exciting auctions, and amazing deals, DealDash is quickly becoming the go-to destination for savvy shoppers looking to stretch their budgets.
So why do shoppers love DealDash? There are many reasons, but one of the biggest is that it is a legitimate penny auction website. Unlike some other penny auction sites that have been accused of being scams or rigged against the user, DealDash has a strong reputation for fairness and transparency. This means that shoppers can trust that they are getting a fair shake when they bid on auctions and that they have a real chance to win great products at amazing prices.
One of the things that set DealDash apart from other penny auction sites is its commitment to transparency. Unlike some other sites that don't disclose important information about their auctions, DealDash makes it easy to see everything that's going on. From the current bid amount to the number of bids placed, DealDash gives shoppers all the information they need to make informed decisions about their bidding strategy. This transparency helps to build trust between DealDash and its users, which is one of the reasons why so many people love shopping on the site.
Another reason why shoppers love DealDash is the amazing deals that are available. With auctions starting at just one cent, shoppers can bid on products and potentially win them for a fraction of their retail price. And because DealDash offers a wide variety of products, from electronics to home goods to jewelry, there is something for everyone on the site. Plus, with new auctions starting all the time, there is always something new and exciting to bid on.
Of course, the key to winning on DealDash is having a solid bidding strategy. Fortunately, the site offers plenty of resources to help shoppers maximize their chances of winning. From tutorials on how to bid effectively to a variety of tools and features that can help shoppers track their progress, DealDash has everything shoppers need to succeed. And because the site is so transparent, shoppers can be confident that they are making informed decisions every step of the way.
So if you're looking for a legitimate penny auction website that offers great deals and a fun, exciting shopping experience, look no further than DealDash. With its commitment to transparency, its wide variety of products, and its helpful resources for shoppers, DealDash is quickly becoming the go-to destination for savvy shoppers across the country. And with the keywords "DealDash is legit" ringing true, you can be sure that your shopping experience will be safe, secure, and rewarding.

Bottom line: People who know how to play smart on DealDash love this shopping site. Those who do not learn how to play smart probably should not play unless they cannot afford to lose. But if you do lose an auction and BIN (Buy-It-Now) you can get all your bids back free to try again in another auction without having to buy more bids. Read my blog posts.

This sponsored blog post was submitted by: Barbara L. Sellers. Barbara was compensated by DealDash for this blog post. Blog posts are written by real DealDash customers. The opinions and advice here represent our customers' views and not those of the company.