Did you notice the beautiful 4 by 6 foot handmade rug up for auction on DealDash.com?
This 70 percent wool and 30 percent cotton handmade rug comes in a clear mountain blue with a white floral design and has a BIN of $1,600.
So far, this rug has a very high rating. Overall, it has received a 4.93 out of a possible 5.0 and it doesn't get much better than that. Previous winners absolutely love it and that says a lot about the quality of this product.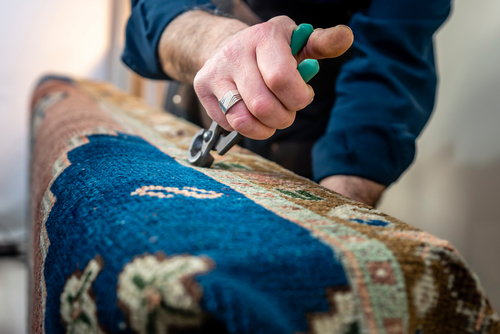 On June 29 this rug sold for $63.79 and the winner paid a total of $539.29 including the cost of the $2,512 bids placed. Therefore, the winner got more than $1,000 off the BIN price of this rug, so that was a real bargain. Handmade rugs are not easy to come by.
A brief history of rug making
According to my research, it is believed that rug making goes back to thousands of years BC.
Nomadic tribe's hand-wove rugs out of camel, sheep and goat hair more than 5,000 years ago. Archeologists have uncovered evidence of rugs in Egyptian and Mesopotamian tombs dating back more than 4,000 years.
The oldest known surviving rug is the Pazyryk Carpet, which dates back to 500 BC. In the late 1940s a Russian archaeologist Sergei Rudenko discovered it in the tomb of a Scythian prince in Pazyryk Valley of Siberia.
The easiest way to find out if a rug is machine-made or handmade is by checking the backside of the rugs. If you see any type of binding or surging used, then you are looking at a machine-made rug. However, if there are no stitches visible then it's a handmade rug.
Even though we have to pay more for them, handmade rugs are better for several reasons. For one thing, handmade rugs are more durable and can last a lifetime. They are generally created with passion and creativity. An expensive rug will usually be made of high-quality wool, silk, or other natural fibers. A more moderately priced rug, however, is often made of synthetics, like polyester, olefin or nylon or even low-quality wool or natural fiber such as jute.
The bottom line
This handmade rug is just one example of the many exquisite handmade rugs that DealDash has coming up for auction, so we should keep a lookout for more rugs we might like even more. Anytime we can get a handmade rug, it is indeed something we can treasure for a long time to come.
Perhaps I will compete with you in the auctions to win this beautiful blue handmade rug.
Happy shopping everyone and may we all win the deal of a lifetime on one of the many wonderful handmade rugs on DealDash.com!

This sponsored blog post was submitted by: Barbara L. Sellers. Barbara was compensated by DealDash for this blog post. Blog posts are written by real DealDash customers. The opinions and advice here represent our customers' views and not those of the company.