Do you want to give your pet a nice Christmas gift, too?
Then you are shopping in the right place because DealDash.com has the perfect pet bed and other products that your pets will be sure to love.
Collapsible Cat Cube
 This cat bed, which measures 15.7 x 15.7 x 15.3, is comfortable and unique because it can be used in more than one way. When raised up in its full-sized cube shape, your cat can enjoy a more protected and private hide-away with a small opening to peek out. However, if your cat prefers to be in more open spaces, this cube bed can fold down so your cat can snooze away on top of it instead.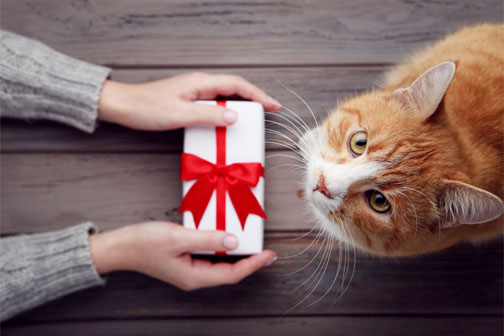 Best of all, this polypropylene and polyester cat bed is machine washable in cold water. It might be difficult to find a better cat bed than that.
If you don't win you can BIN this cat bed for $180.00. Looking at past winners, however, most of them won it for a pretty good bargain price. One winner got it for only $14.65 including the cost of using 49 bids.
Climbing Tree for Cats
DealDash also has a climbing tree for cats, with dimensions of 27.5 inches x 15.7 inches x 51.5 inches high. This climbing tree has several landing perches, multi-level scratching posts, four swat track balls and a climbing ladder. This would be sure to provide many hours of entertainment for your cat.
Looking at recent past winners, a couple DealDash shoppers won this climbing tree, with a BIN of $620.00 for less than $30.00. What an awesome bargain!
For more details, do a search and read the auction description.
Water and Food Bowls
DealDash offers many water and food bowl auctions for both dogs and cats. The medium and large slow feed dog bowls are made of naturally cooling ceramics so we don't need a refrigerator to keep our dog or cat's food and water cool. If we put the dish in cool water for a few minutes before use this pet dish will keep the food fresh and cool throughout the day.
Many of these bowls that BIN for $50 to $72 have sold for less than $1. Pet owners can't beat a deal like that!
History of Dog Beds
According to my research, Eugene Kruck, of Huntington Station, New York patented the first dog bed in 1954, only 67 years ago.
Like people, dogs need a good night's rest to stay healthy. This is especially important for older dogs and larger breeds that need more sleep than younger, smaller dogs. Unlike the floor, a bed will keep dogs warm and will also support arthritic joints and prevent calluses. Well-rested pets will have more energy, and the size of the dog bed might make a difference, too. Smaller dogs need to be able to stretch out, but they also need to feel safe and snug, so a dog bed that is much too large might make it difficult for the dog to settle.
Pet experts say dogs need beds of their own just like people do. It provides a place where they can retreat to when your pet needs time by himself. It also provides a place for our dogs to sleep so they do not sleep where we don't want them to sleep – like on our sofa or in our bed. If a dog chooses to sleep on the floor instead of its own bed, it might be because its bed is a little too hot or too cold. We might have to move the dog's bed to a different location.
Most dogs prefer soft but firm beds. Some might prefer the fluffiness of a pillow but most dogs do not need a pillow. In winter months, however, dogs might need a blanket. Just because they have fur does not mean they do not get cold.
Bottom Line
Don't forget to shop for your pets. After all, they are an important part of your family, too.

This sponsored blog post was submitted by: Barbara L. Sellers. Barbara was compensated by DealDash for this blog post. Blog posts are written by real DealDash customers. The opinions and advice here represent our customers' views and not those of the company.