When was the last time you had a group of friends over to party with a keg of beer while watching a big game or simply enjoying some fun times together? Well, now is your opportunity to party in style!
Did you see the new stainless steel easy-dispensing tap beer cooling system listed in the DealDash.com auctions?
With this system you and your friends can enjoy refreshing craft beer straight from your countertop tap. It will hold 5-liters of your favorite craft brew. The standard threaded CO2/N2O cartridges helps to keep your beer cold and fresh for 30 or more days after tapping right in "any own kitchen, bar, man-cave, basement or garage!" It comes with three 16g CO2 cartridges which will work with any standard threaded CO2 or N20 cartridges.
According to the description in the DealDash listing, this system includes a reusable 5-liter growler keg, but it also works with all standard 5-liter pressurized or non-pressurized gravity kegs, and "an easy-pull tap handle makes dispensing easy, while a removable drip tray catches any drips."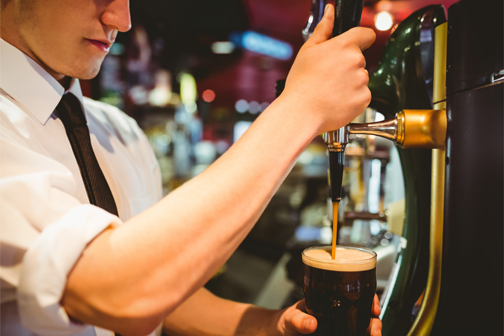 This system has a powerful thermoelectric cooling system but the quiet operation results in low noise. The LED adjustable temperature gauge ranges from 36 to 53 degrees and chills within 24 hours, keeping drinks ice cold.  It even comes with a squeeze bottle cleaning kit to keep beer lines fresh and clean.
So far, all previous winners gave this product a perfect 5.0 rating. One DealDash customer wrote, "It arrived quickly and was packaged well. It's very heavy and durable!"
This system is also listed as a bundle that comes with a few extras, such as a couple glass highballs and a set of 4 marble coasters.
History of Beer in the USA
According to my research, the first commercial brewery in the United States was built by the Dutch West India Company in 1632 in Lower Manhattan on Brewers (later Stone) Street. Until the middle of the 19th century, British-style ales dominated American brewing. As more European immigrants moved to America, they brought their beer brewing traditions with them.
Beer is one of the oldest drinks humans have produced. The original purpose of beer was largely ceremonial. In those early days, beer was thought to be healthier than water.
D.G. Yuengling & Son, which opened in 1829, is the oldest brewery in the United States, and beer is the most popular alcoholic beverage in America. It accounts for about 85 percent of the volume of alcoholic beverages sold in the United States each year. According to my research, as of 2016, the top three beer companies in the USA were Anheuser-Busch, Miller Coors, and Pabst Brewing Company. Anheuser-Busch InBev has six of the top ten brands.
Bud Light is the most popular beer in the United States, followed by Coors Light, Miller Lite and Budweiser. Snow, a brand sold mostly in China, is the best-selling beer in the world.
In terms of production volume China was the leading producer of beer in 2019 and brewed 376.53 million hectoliters. The United States was the second leading producer of beer in 2019 and brewed 210.88 million hectoliters.
Drinking beer in moderate amounts can be beneficial to hair and skin, but excessive beer drinking is not recommended by anyone in the health industry. According to the National Institute on Alcohol Abuse and Alcoholism, drinking is considered to be in the moderate or low-risk range for women at no more than three drinks in any one day and no more than seven drinks per week. For men, it is no more than four drinks a day and no more than 14 drinks per week.
Bottom Line
If you and your friends enjoy getting together to party and drink beer, you might want to click on the Alert Me button in the DealDash listing so you can bid on, win or BIN the new stainless steel easy-dispensing tap beer cooling system.

This sponsored blog post was submitted by: Barbara L. Sellers. Barbara was compensated by DealDash for this blog post. Blog posts are written by real DealDash customers. The opinions and advice here represent our customers' views and not those of the company.