A luxury bathrobe could make a wonderful Christmas gift and DealDash.com has one that has been receiving rave reviews.
This luxury 100 percent cotton Terry Velour bathrobe has a BIN of $320. On Dec. 6, however, the auction closed at $7.25 and the winner paid a total of only $23.65 including the cost of the 82 bids placed.
This thick and fluffy bathrobe is described as a "blanket of warmth." Therefore, it will no doubt make your spouse or significant other very happy. According to the auction description, this absorbent terry bathrobe "has an exceptionally flattering fit that falls above the calf for comfort and cozy versatility."
After a total of 147 reviews from previous winners, this bathrobe has received an overall rating of 4.94 out of a possible 5.0 which is extremely high and speaks volumes for the extraordinary quality of this item.
The design of this bathrobe left nothing out. It has long sleeves, a shawl collar, two large patch pockets, belt loops and a belt. It comes in two colors – White and New England Dusk and it also comes in a variety of sizes from S to XXL. Therefore, shoppers should check the size chart available and ensure they are bidding on the correct size.
This is definitely a very useful gift whether stepping from the shower or lying around a pool. It also comes with a handy loop on the inside yoke which makes it convenient and easy to put on a hook whenever it's not in use.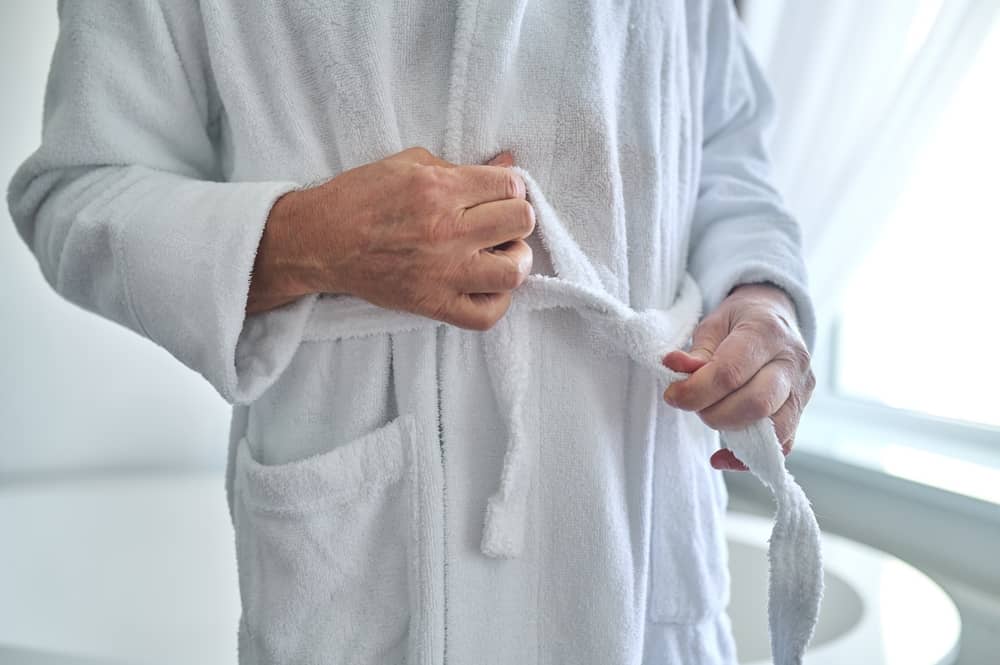 A brief history of bathrobes
According to my research, the Chinese are well known for their use of robes which were worn as far back as the 1800s throughout a large part of the Chinese dynasties. These robes were made from fine fabrics such as silk and were often adorned with intricate embroidery.
Robes are set aside from cloaks and capes because of the attached sleeves and bathrobes have evolved through the years. Bathrobes can be used to dry off, whereas loose robes are usually lighter and simply used as quick and convenient cover when getting out of bed. The British English might refer to a robe as a dressing gown.
We can expect most bathrobes to last about three years but if we only use them on weekends we could get five or more years use out of them.
Many hotels launder bathrobes for their next guest and, therefore, the bathrobes should be left behind. However, some higher-end hotels may give a monogrammed robe to their guests as a gift.
The bottom line
Luxury bathrobes come up for auction fairly often on DealDash.com so we have plenty of opportunities to win one, if not for Christmas, perhaps for another special occasion such as a birthday. It certainly is a gift that will be used time and time again.

This sponsored blog post was submitted by: Barbara L. Sellers. Barbara was compensated by DealDash for this blog post. Blog posts are written by real DealDash customers. The opinions and advice here represent our customers' views and not those of the company.