DealDash.com is coming up with some new and truly unique auctions.
One of the new auctions is a helicopter ride. Have you ever wanted to take a ride on a helicopter? Well, now you could have your first opportunity to do just that.
This auction offers the winner a 25-minute scenic helicopter tour for two to enjoy breathtaking views of key sights while flying above Los Angeles, California.
According to DealDash's description of this amazing experience, the winner of this auction can take one other person on this helicopter tour with them but other spectators are welcome to come to the airport and take photos from the ground.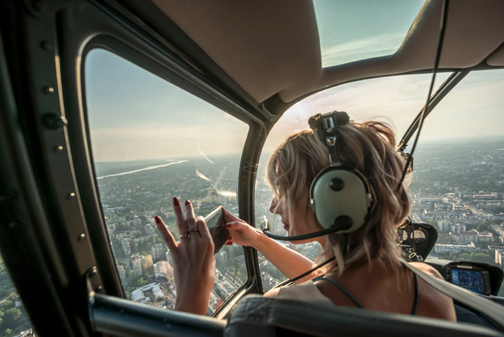 A certified helicopter pilot will point out several landmarks on this customized tour. Some sights you can expect to see (but are subject to change) include:
Los Angeles Basin
Downtown L.A.
Hollywood Hills
Hollywood sign
Downtown Hollywood
Grauman's Chinese Theater
Dolby Theater
Hollywood Forever Cemetery
Paramount Studios
University of Southern California campus
All passengers must have a valid form of identification. Weight restrictions apply. The maximum weight allowed per person is 300 pounds or a total combined weight of 600 pounds for the winner and one guest. Your pilot will provide protective headsets for each passenger. Comfortable clothing and rubber-soled shoes are recommended.
Gratuity for the pilot is not included and the winner of this auction must provide their own transportation to and from the location of the airport where the helicopter rides are to take place. In case of inclement weather, you will reschedule directly with the pilot.
For more detailed information, check the description of this auction on DealDash.
Brief History of Helicopters
According to my research, many inventors and engineers from all over the world built prototypes of helicopters after 1912, many of which were used in the first two world wars.
The first helicopter to attain production status was the Focke-Achgelis Fa 223 Drache (English for Dragon). This helicopter was developed by Germany during World War II. However, production was hampered by the Allied bombing of the factory, so only 20 were built.
Igor Sikorsky is credited with creating the first mass-produced helicopter in the United States.
The VS-300, designed by Igor Sikorsky, first took flight on Sept. 14, 1939 at Stratford, Connecticut. It was built by the Vought-Sikorsky Aircraft Division of the United Aircraft Corporation. This was the world's first practical helicopter and was the first to incorporate a single main rotor and tail rotor design.
Turbine-engined helicopters can reach around 25,000 feet. But the maximum height at which a helicopter can hover is much lower because of the thin air at greater heights. A high performance helicopter like the Agusta A109E can hover at 10,400 feet.
The first transatlantic helicopter flight took place in 1952, but the first non-stop transatlantic helicopter flight did not take place until 1967.
The Sikorsky X2 now holds the record for the fastest helicopter in the world. The helicopter first set the unofficial record in 2010 when a demonstrator model reached 287 mph but since production has achieved faster speeds
Bottom Line
If you are looking for a unique Christmas gift for someone special in your life, this might be an auction you might want to win – especially if you are already living in or near the Los Angeles area where the helicopter airport is located.
The best part is even if you are not able to win this auction you can still BIN it for only $260.00.

This sponsored blog post was submitted by: Barbara L. Sellers. Barbara was compensated by DealDash for this blog post. Blog posts are written by real DealDash customers. The opinions and advice here represent our customers' views and not those of the company.