Are you looking for DealDash reviews? Want to hear about other bidder's experiences and whether or not they've won? Check out all DealDash.com's TrustPilot Reviews where real customers have rated DealDash.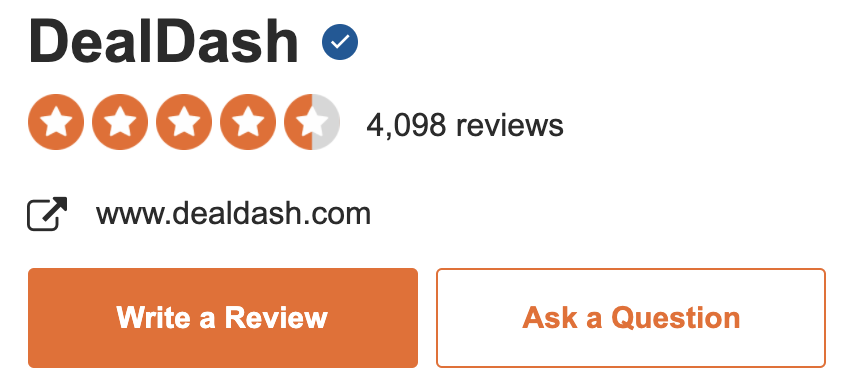 At the time of writing, DealDash holds a 4.5 "Excellent" Rating on TrustPilot.com. Have you bid on DealDash.com? Share your review on both TrustPilot.com and SiteJabber. DealDash is devoted to making the customer experience great and wants to hear all feedback. They even respond to reviews most of the time, whether good or bad.
Is DealDash a Ripoff?
DealDash has been providing live online auctions since 2009. In 2020 the company turned 11 years old celebrating with a grand Birthday Party. The company works directly with consumer brands to get great deals on overstock inventory. This way DealDash can afford the cheap prices. These savings are then carried forward to the customers in the DealDash auctions. You can read about the math behind DealDash auctions to better understand how the price is formed.
DealDash reviews
Below are a few reviews that were posted to TrustPilot by confirmed DealDash users:
"Customer Support for DealDash is…"
Customer Support for DealDash is outstanding. Their response was timely and they stayed in touch until all my questions and issues were solved, as I was new winner of a bid and had entered the wrong option. She voided my incorrect entries and fixed my problems. I just received my Tracking information on my winning item and am a "happy camper"
Sherry, 8/25/2020
"Love playing"
It was just the learning curve for me. Had fun playing but there are some rules which aren't written but customer service answers the questions by email very quickly and even sends a follow to ensure everything is taken care of. I love playing its even addictive. In the beginning it's just a learning curve which it is for anything.
Kay Handy, 8/9/2020
"Experience with DealDash"
Finally, beginning to win a few auctions- not as skeptical as in the beginning. Although customer service has been great , it does become somewhat costly- sort of like going to the casino, sometimes you win, sometimes not- but in the end , the house always comes out on top! Entertaining and addictive!
Dawnie, 7/30/2020